Italian food is where it all started for me. Late nights binge watching the Food Network and attempting to make myself a different pasta dish  was literally how I started learning how to cook. I would say those days paid off, BIG time, and every time I make a pasta dish now it takes me back to those good times where I gradually gained 15 pounds and valuable culinary knowledge! Eventually my skills grew to the point where I could make this delicious pasta with creamy tomato sauce recipe.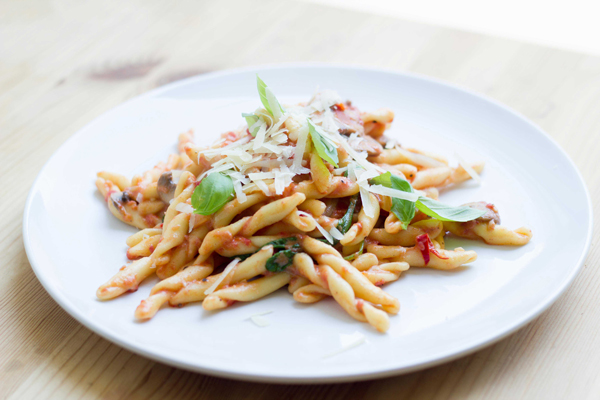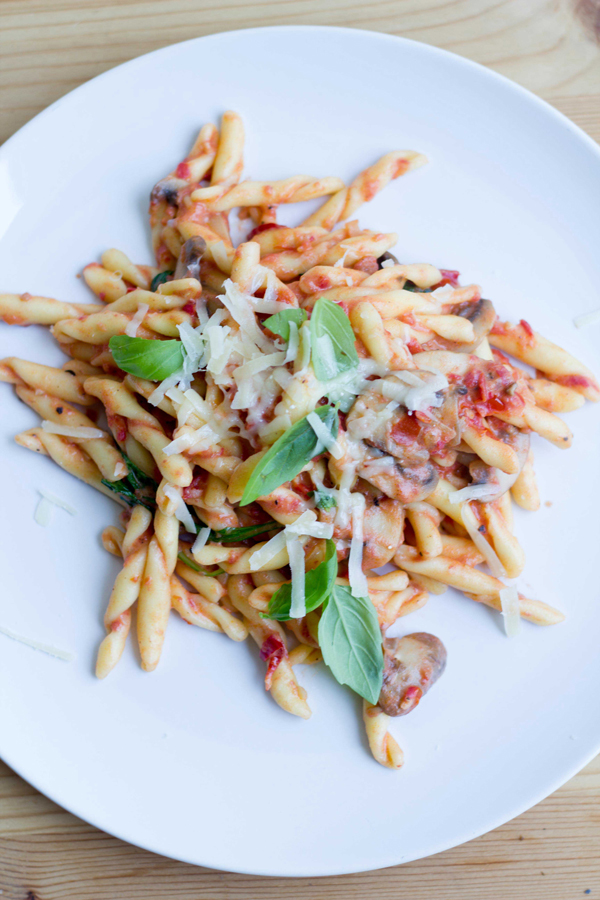 Pasta with creamy tomato sauce is basically my favorite. I order it at every single Italian restaurant I go to and if they don't have it, I ask to customize the sauce so it comes out like this. I'm a creamy tomato sauce junkie, or as I like to call it "Pink Sauce". And mushrooms, because they're awesome and there's no reason not to include them in the party. My choice of pasta was fairly arbitrary and you can definitely make this meal with any pasta shape you like.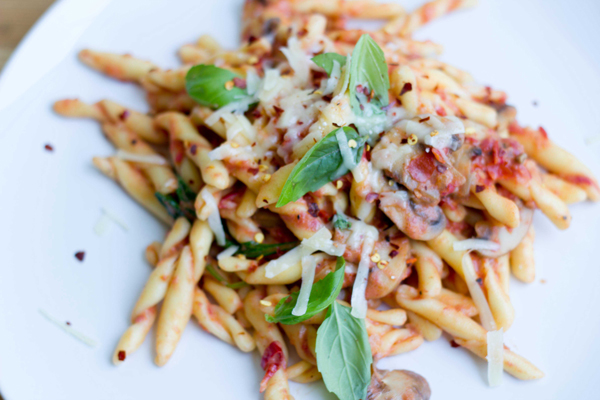 Trecce Pasta in Creamy Tomato Sauce with Mushrooms
Ingredients
1 package trecce pasta
3 medium sized tomatoes
½ a cup of sliced mushrooms
⅓ cup of cream
½ an onion, diced
3 cloves of garlic, minced
1 small red chili, chopped
1 tablespoon butter
1 tablespoon olive oil
1 handful of basil
grated parmesan for garnish
1 teaspoon red chili flakes
Instructions
Heat the oil and butter in a non-stick pan on medium heat.
Once hot, add onion, garlic and red chili and let cook over medium-low until fragrant and the onions are translucent.
Add the sliced mushrooms, raise the heat to medium, and let cook for 2-3 minutes.
While the mushrooms are cooking, chop your tomatoes into quarters and add them to a food processor.
Pulse until they've broken down into a sauce consistency and add them to the pan, raising the heat to medium-high.
At this point add salt and pepper and once the tomato sauce has come to a boil add the cream and reduce to a simmer on medium-low.
For the pasta, boil water in a pot, add salt and a drizzle of olive oil.
Once the water is boiling add in your pasta for about 10-15 minutes or until "al dente".
Strain the pasta when ready and add it to the sauce pan.
At this point pick off a handful of basil leaves and stir them into the dish.
Plate the pasta with grated parmesan, some red chili flakes and enjoy!