I'm melting in this summer heat almost to the point where I don't have an appetite at all, but this Thai chicken satay with cucumber salad recipe totally hits the spot in hot and humid weather. After all Thailand is one of the most hot and humid countries, so they know a thing or two about food that's meant to cool you off.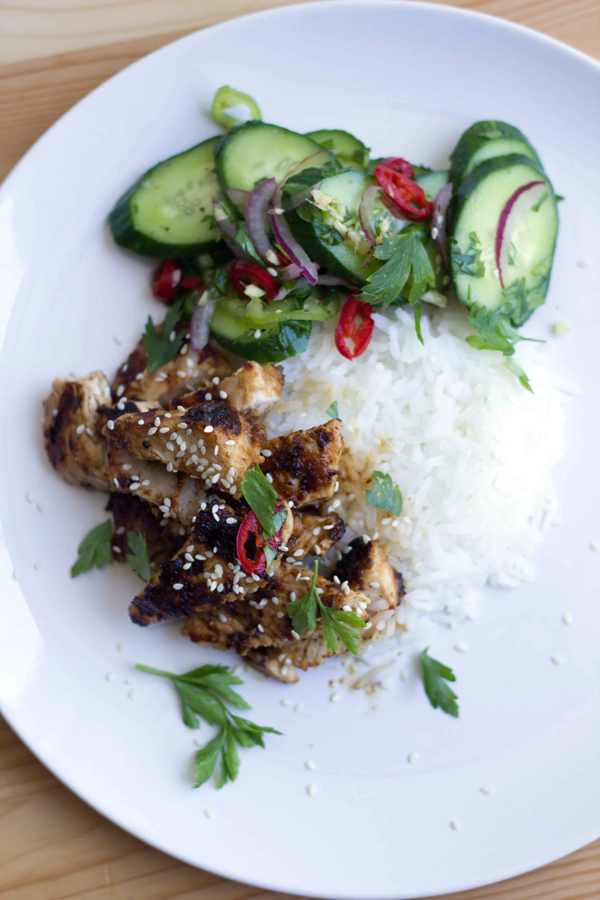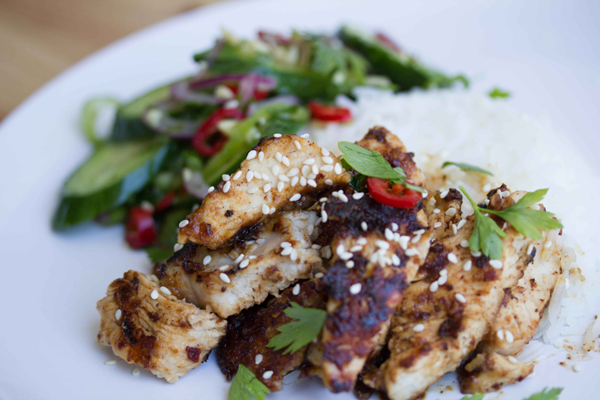 I love the combination of sweet and tangy chicken with refreshing vinegary cucumber salad. The different textures in this Thai chicken satay plate also balance each other out so well. The sticky rice mixed with tender chicken and crunchy cucumbers is the perfect bite.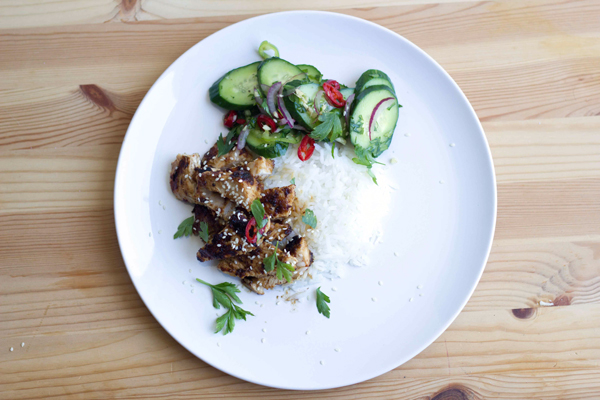 Thai Chicken Satay with Cucumber Salad
Ingredients
1 lbs. boneless chicken breast
1 cup short grain rice
1 cup water
1 cup coconut milk
2 persian cucumbers
1 red chile
¼ cup chopped parsley
½ red onion
1 tablespoon minced ginger
1 teaspoon sesame seeds
1 tablespoon peanut butter
3 tablespoons rice wine vinegar
1 tablespoon honey
2 teaspoons sesame oil
2 tablespoons brown sugar
2 tablespoons soy sauce
3 tablespoons olive oil
Instructions
Marinate the chicken with ½ a tablespoon minced ginger, ½ a tablespoon honey, 1½ tablespoons soy sauce, 2 tablespoons olive oil, brown sugar, 2 tablespoons rice wine vinegar and peanut butter for at least 1 hour.
For the rice, bring 1  cup of rice to a boil in 1 cup coconut milk and 1 cup water with salt to taste. Once rice is boiling, put on the lowest heat and simmer for 15-20 minutes until rice is cooked through. (If the coconut taste is too strong for you you can strain the rice in water to wash some of it out.)
Chop cucumbers into thin slices and combine with chopped parsley, thinly sliced red onion, ½ a tablespoon minced ginger and chopped red chili.
For the dressing combine 1 tablespoon rice wine vinegar, ½ a tablespoon of honey, 1 teaspoon sesame oil and ½ a tablespoon soy sauce.
Drizzle dressing over the cucumber salad.
After the chicken is marinated, set a grill pan to the highest heat with 1 tablespoon olive oil.
Once hot, grill chicken for approximately 3 minutes on each side depending on thickness of the cut. Remove from heat, slice the chicken into bite size pieces and sprinkle with sesame seeds.
Plate the rice first, then chicken and cucumber salad on the side. Enjoy!