Hamin is a traditional Jewish dish where instead of throwing out the leftovers from the past week, thrifty families would throw all the meat, bones, and vegetables they had into a pot and let them simmer overnight. You'll see variations on this comforting stew coming from all sides of the Jewish spectrum; Sephardic Jews of Morocco, Yemen, Iraq, Iran, and European Ashkenazi Jews (who typically call the dish Cholent) all have their own versions.
I grew up with my mom's variation on Iranian Hamin and the intoxicating aromas it would spread around the house. The smell of this Hamin was my alarm clock on Saturday mornings as I jolted out of bed and sprinted to the kitchen to pour myself a bowl before my dad came home from synagogue.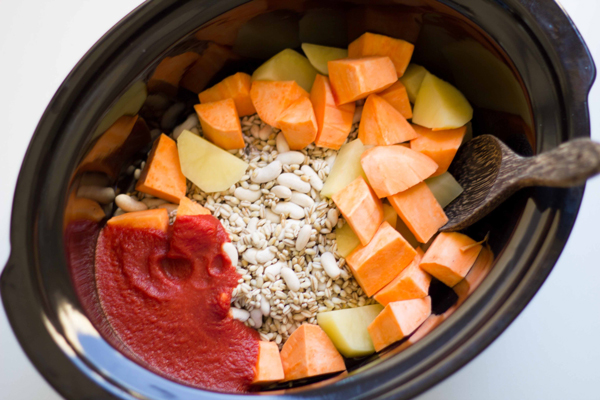 As I was quite the picky eater back in the day (I hated meat), my mom adapted the dish to be vegetarian, but the hardiness of the sweet potatoes and beans will make you forget there's no meat in it!
What's also so great about this slow cooker stew is that it's so easy to make! All you do is throw in sweet potato and potato chunks, barley, white beans, tomato sauce and eggs into the crock pot. Cover the entire thing with water and watch it magically transform overnight into this: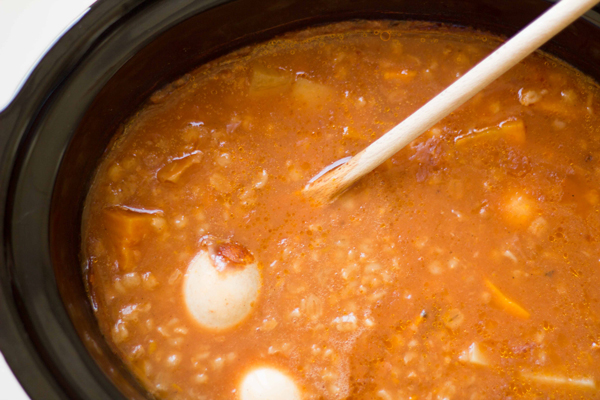 Nothing says Saturday morning like this chunky, comforting bowl of Hamin. Especially in the winter!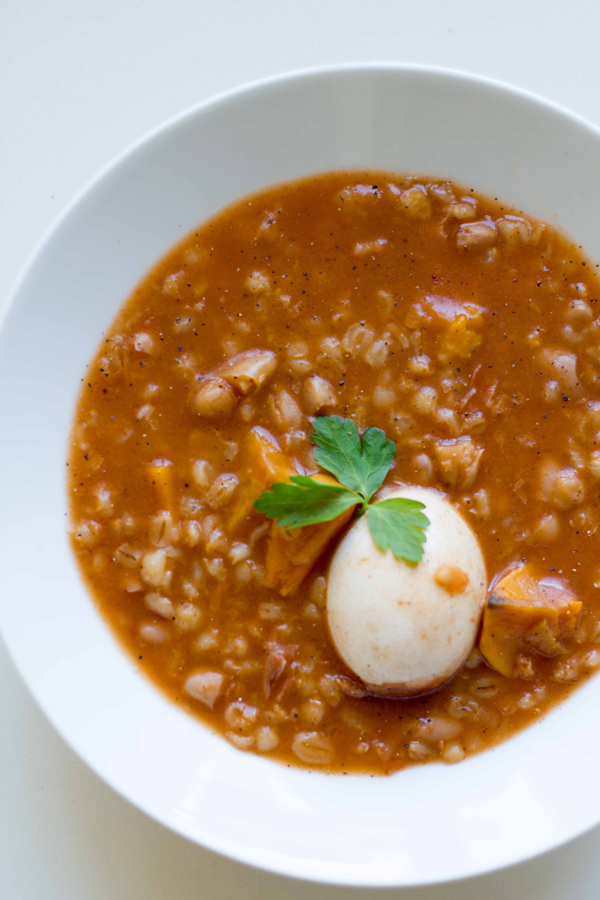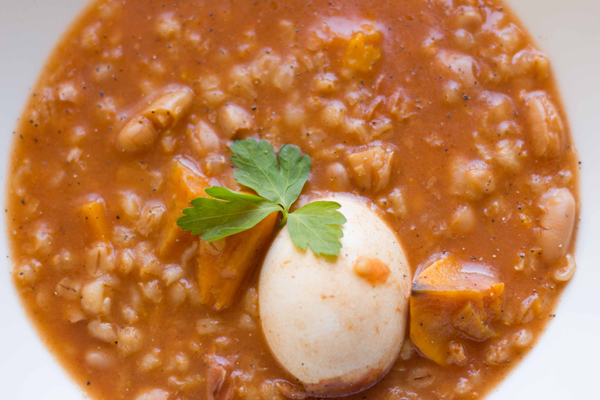 Sweet Potato Vegetarian Hamin (Shabbat Stew)
Hamin is a traditional Jewish stew made for Shabbat mornings. My Vegetarian take on this comforting winter stew is made with sweet potatoes and beans that magically transform into a thick creamy stew overnight in your crock pot!
Ingredients
1 cup of barley (soaked in water overnight)
1 cup of white beans (soaked in water overnight)
1 sweet potato
1 potato
1½ cups of canned tomato sauce
2-4 eggs
1 tablespoon olive oil
Instructions
Chop the sweet potato and potato into large chunks and throw into the crockpot along with the barley, white beans, and tomato sauce.
Gently place the eggs in as well.
Cover the crockpot ¾ of the way up with water and season well with salt, pepper and a drizzle of olive oil.
Close the lid and set the crockpot to low for at least 12 hours.
Periodically check the hamin to see if it needs more or less water.