If there was one takeaway from my travels to India it was that what we as westerners consider Indian food is far from what Indian food actually is. Authentic Indian food varies as much as the 720 different dialects and the different ethnic groups there are in that beautiful ginormous country. One dish that I particularly fell in love with while in India was their spicy red lentil dahl.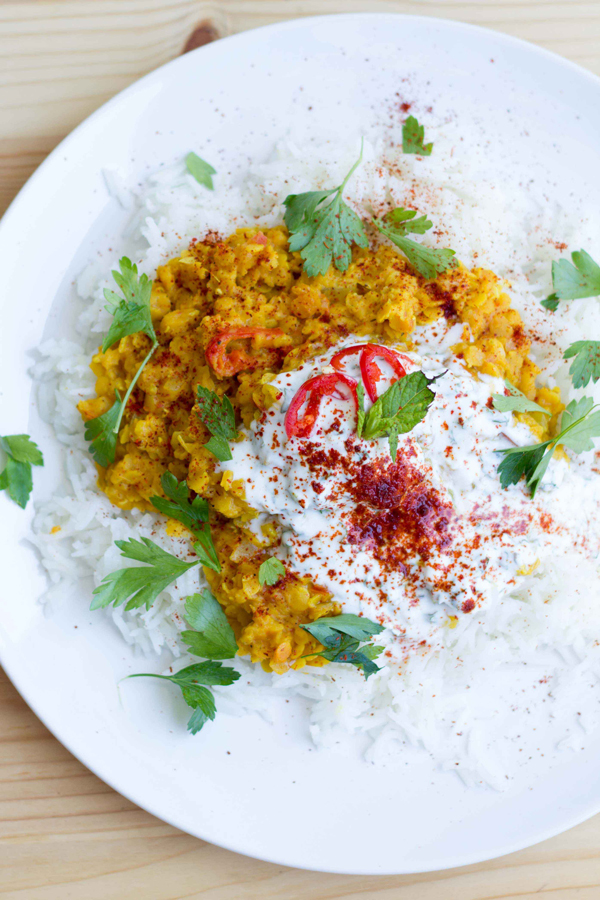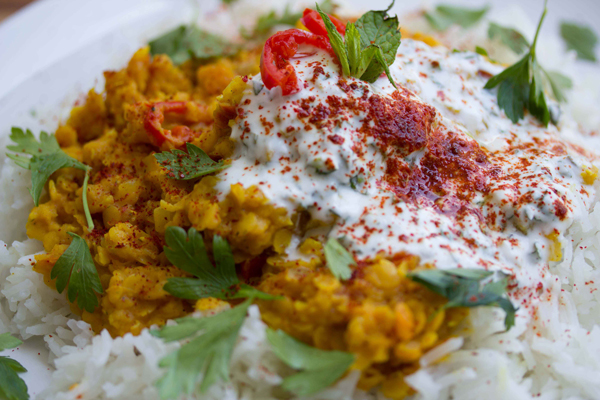 My travel experience in India was one that I'll never forget. It was my gateway to exploring more of Asia later on and discovering the incredible things the other side of the world has to offer. Needless to say, I came back with a suitcase full of spices and a burning urge to recreate all the amazing food I had while there.
Spicy red lentil dahl is a widely common dish in India, especially because lentils are a staple of the vegetarian diet. I gave my little twist to this classic meal in dialing up the heat and adding a Persian influenced yogurt and mint dip on top. The combination was so good because the cool yogurt perfectly balanced the spiciness of the dahl.

Spicy Red Lentil Dahl with Mint Yogurt
Ingredients
2 cups red lentils
½ cup coconut milk
2 cups hot water
1 tablespoon minced ginger root
1 onion, diced
2 cloves of garlic
½ red chilli, minced
2 medium tomatoes, diced
½ teaspoon cayenne pepper
1 tbsp olive oil
1 tsp turmeric
½ tsp garam masala
1 teaspoon curry powder
parsley for garnish
½ cup yogurt
2 tablespoons chopped fresh mint
½ lime
Instructions
Rinse the lentils with cold water and let drain.
In a medium saucepan heat the olive oil and add onion, garlic, chili, turmeric and stir continuously over medium heat.
Add tomatoes, salt and pepper to taste and let simmer for 2 minutes.
Add the lentils and the water and bring to boil.
Once boiling, lower the heat and let simmer for 15 minutes.
Add garam masala, curry powder and the coconut milk and let simmer for another 5 minutes. It should end up with a porridge consistency.
For the yogurt, combine chopped mint, yogurt, salt, pepper and ½ a lime's juice in a small bowl.
Serve the dahl and yogurt sauce over cooked basmati rice and you have a delicious vegetarian dinner or lunch!