This dish is the epitome of East meets West for me. My parents are both Iranians who fled Iran after the 1979 revolution and settled in Los Angeles, California. Obviously, beef pot roast is not part of traditional Iranian cuisine, but after 30 years of living in the U.S. my mom has adopted the recipe as her own. Of course no meal in a Persian household would be complete without rice so she usually serves her pot roast along side cranberry rice.
Now that I think about it, this meal would be perfect for Thanksgiving!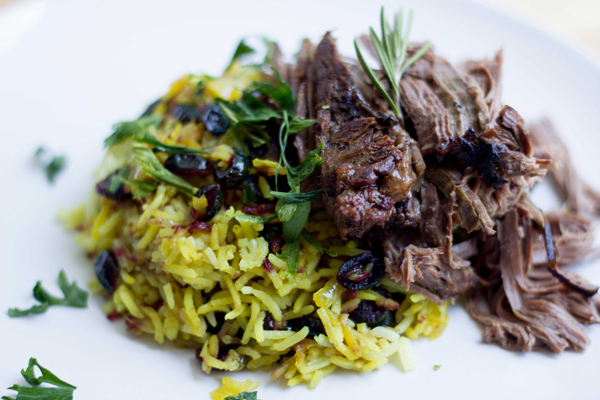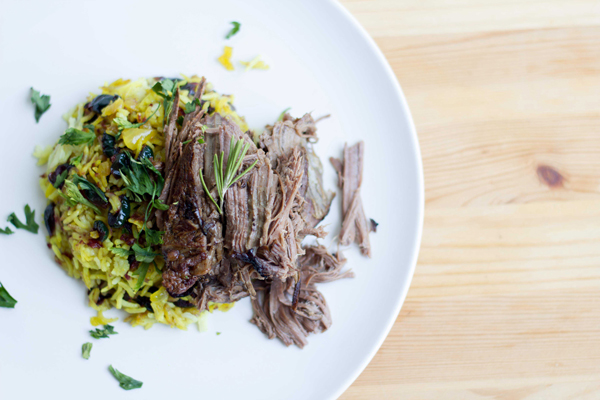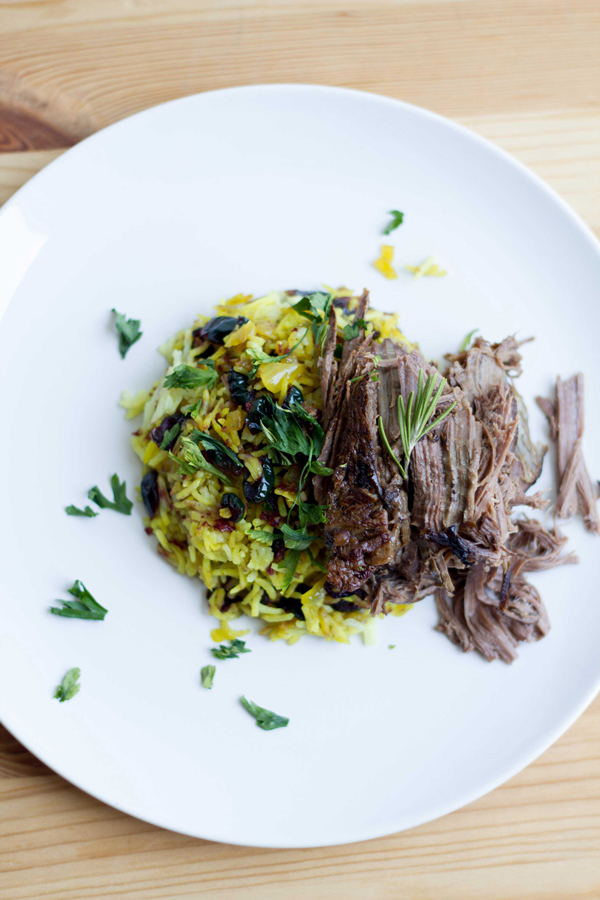 It's hard to choose my favorite but this beef pot roast is definitely a top contender for one of my mom's top 10 recipes. The beef is slow cooked in the oven for hours after it is marinated with balsamic vinegar, red wine, rosemary and garlic. I can't even put to words the intoxicating smell that lingers in the house while she's cooking this. It's to die for! For those of us with less patience, I converted the beef pot roast recipe to a slow-cooker one. You just set the beef inside with the marinade ingredients and let it do it's thing automatically.

Slow Cooker Beef Pot Roast with Persian Cranberry Rice
This slow cooker beef pot roast recipe is rich in flavors of balsamic vinegar, rosemary and wine. Served with fragrant persian cranberry rice you can't go wrong!
Ingredients
Beef Pot Roast
3 lbs beef shoulder
4 sprigs of rosemary
3 tablespoons olive oil
½ cup balsamic vinegar
⅓ cup red wine
6 cloves of garlic, peeled and roughly smashed
Cranberry Rice
2 cups basmati rice
3 tablespoons canola oil
1 cup onions, thinly sliced (about 1 small onion)
½ teaspoon turmeric
1½ cups dried cranberries (or dried cherries)
¼ teaspoon salt
1 tablespoon olive oil
¼ teaspoon saffron (soaked in 2 tablespoons hot water for 10 minutes)
Instructions
Beef Pot Roast
Marinate the beef shoulder in balsamic vinegar, red wine, garlic, 1 tablespoon olive oil, generous helping of salt and pepper, and the rosemary sprigs, for at least 2 hours (preferably over night).
Heat 2 tablespoons olive oil in a non-stick skillet. Once hot, sear the beef shoulder on all sides for about 1-2 minutes. Remove from heat.
Add the beef shoulder plus the remaining marina to a slow cooker and set to high for 3½ to 4 hours.
Cranberry Rice
Soak your basmati rice for at least 2 hours prior to cooking
In a frying pan heat canola oil on medium-high and add the onions to cook until translucent
Add the dried cranberries to the pan and cook for about 3 minutes until they've soaked up the onion's liquid. Once cooked, set aside.
Fill a large pot with water and add your drained basmati rice. Set the pot on high heat and let it come to a boil
Once boiling, remove from heat and strain out the rice. (It should be semi-cooked at this point)
Gently fold in the cranberry onion mixture with the strained rice.
Add olive oil to the bottom of the big pot you used, along with the saffron mixture.
Spoon the rice mixture into pot, close the lid and set to medium-high heat for approximately 15 minutes.
Once the steam begins to rise, lower the heat to the lowest, remove the lid and place a napkin or thin towel over it and close again.
Let the rice gently steam on low heat for about 45 minutes.
You should have gently steamed rice on top with crispy tahdig at the bottom of the pot (crunchy rice)