I haven't posted a recipe for a long time now, but these slow cooker shredded beef quesadillas are too good not to share.
The truth is, I've been struggling to lose weight since giving birth last February and my lack of willpower to stop eating anything and everything has kept a few stubborn pounds on me.
…until last week, that is, when I discovered "The Whole 30" diet and decided that no matter what happens, I'm dedicated to finishing. I'm 10 days in now and feeling amazing, which also means that I didn't actually get to taste the tortilla part of these quesadillas (because you can't eat bread while on The Whole 30).
However, I did develop the recipe for the shredded beef and have been eating that with veggies and chimichurri sauce for the past few days. So, I know for certain that the quesadillas must have been delicious, because bread makes everything better, right?
My babysitter, the lucky one who got to eat these, also confirmed the fact that they're amazing. So, that's that.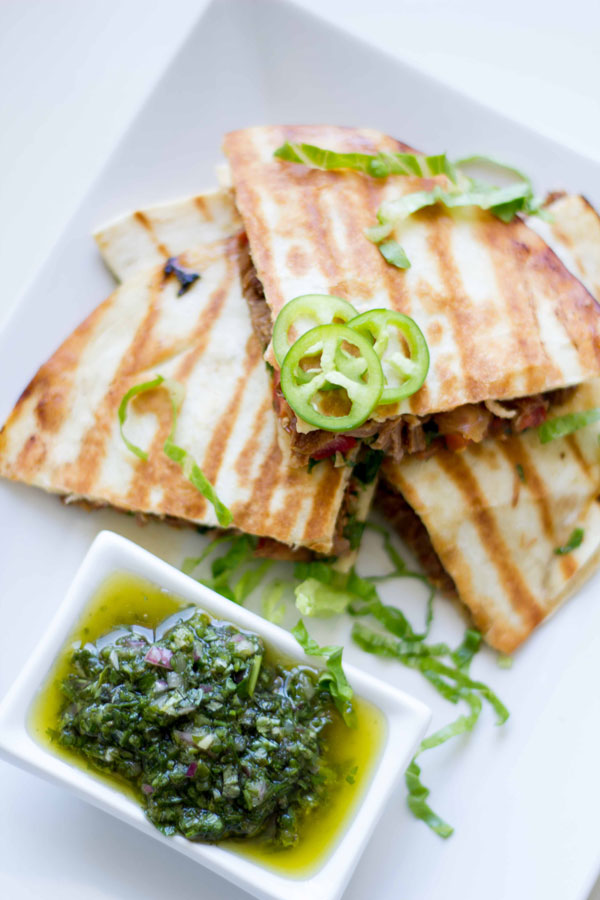 The great thing about this shredded beef quesadilla recipe, besides it's outstanding flavor, is how easy it is to make.
I'm not the biggest fan of chicken so instead of forcing myself to eat that over the week, I buy less expensive cuts of beef that are perfect for slow-cooking. This way, I can have my meat and not go over budget or spend too much time cooking. A slow cooker makes life so easy when all you have to do is throw in ingredients and press "START".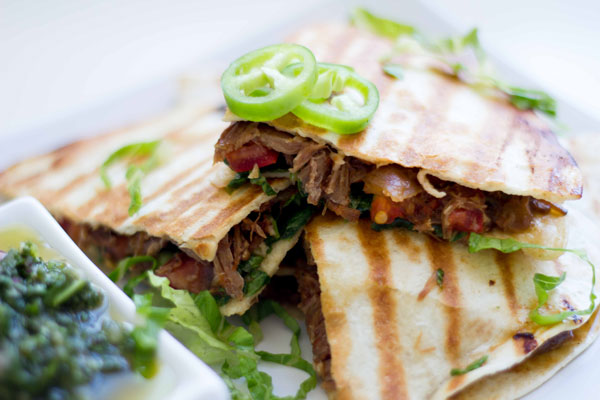 For this shredded beef recipe, I used beef shoulder and added that with onions, garlic, and pureed tomatoes into the slow cooker. It only needs about 5 hours on high to come to the perfect consistency where it is tender and you can shred it apart with a fork.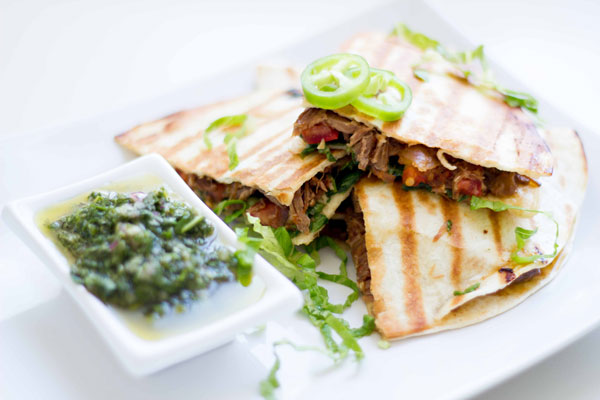 Once you've made your base of shredded beef, you can do virtually anything with it. For this recipe, I decided to stuff it in between two fluffy tortillas with some lettuce and sliced tomatoes and grill it on my grill pan.
Serve with fresh chimichurri sauce on the side and you've got yourself a quick, easy, and delicious go-to lunch or dinner.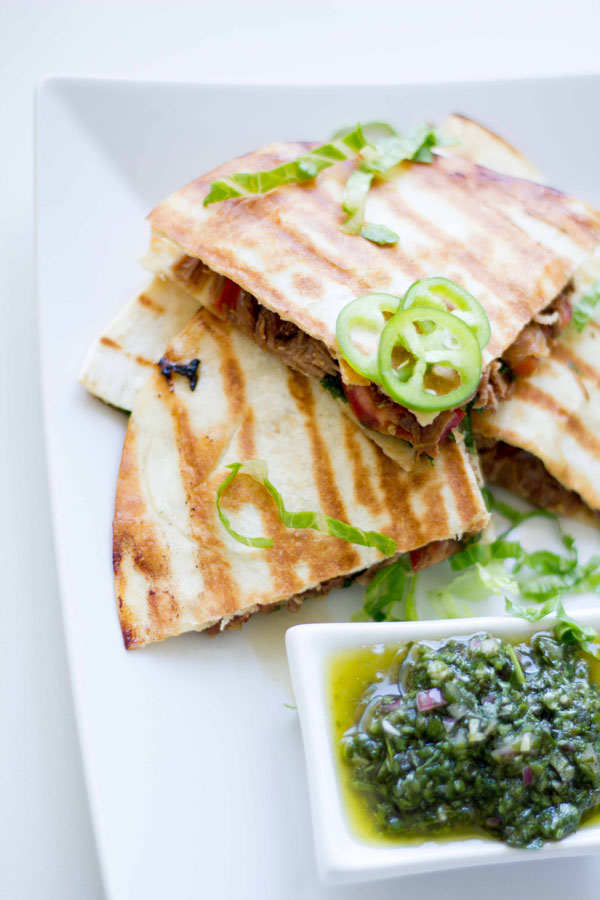 Shredded Beef Quesadillas with
Ingredients
1 lb beef shoulder
5 tomatoes
1 yellow onion
2 cloves garlic
1 jalapeno
1 cup shredded lettuce
8 tortillas
Chimichurri:
1 bunch parsley, finely chopped
1 bunch cilantro, finely chopped
¼ cup fresh oregano, finely chopped
½ a red onion, finely chopped
½ a garlic clove, finely chopped
3 tablespoons red wine vinegar
½ a cup olive oil
salt and pepper to taste
Instructions
Shredded Beef:
Dice the yellow onion, garlic, and jalapeno, and add into the slow cooker.
Add the beef shoulder into the slow cooker.
Cut the tomatoes into quarters then add into a food processor. Pulse until the tomatoes are crushed.
Add the tomato mixture into the slow cooker along with salt and pepper to taste.
Turn the slow cooker onto a high setting for 5 hours. You can then leave it on low until ready to serve, because the beef gets even more tender the longer it cooks.
Once the beef is tender, shred it apart with two forks and set aside.
Chimichurri:
To make the chimichurri, add all the ingredients into a small bowl and mix well, then set aside.
Quesadilla:
Pre-heat a grill pan on high heat.
Assemble the quesadilla by placing the shredded beef, chopped lettuce and chopped tomato over a tortilla, then closing it with another tortilla on top.
Place the quesadilla on the grill pan and sear for 1 minute on each side to get the grill marks and lightly toast the interior.
Cut the quesadilla into 4 quarters and enjoy with a serving of chimichurri sauce on the side.
SaveSaveSaveSave
SaveSave