I found frozen puff pastry squares at the grocery store last week and nothing has been the same since. They've opened up a world of perfectly flaky endless appetizer possibilities and I couldn't be happier! Especially with these savory tarts I created.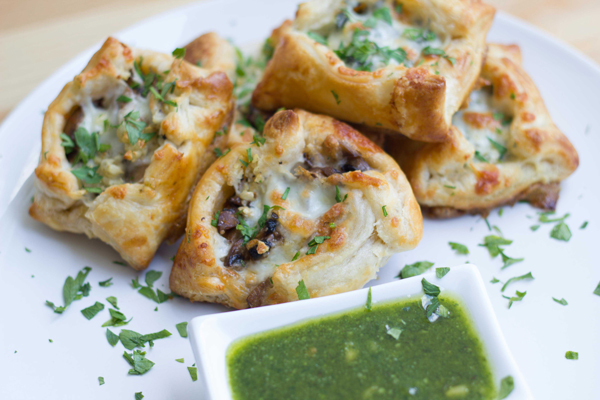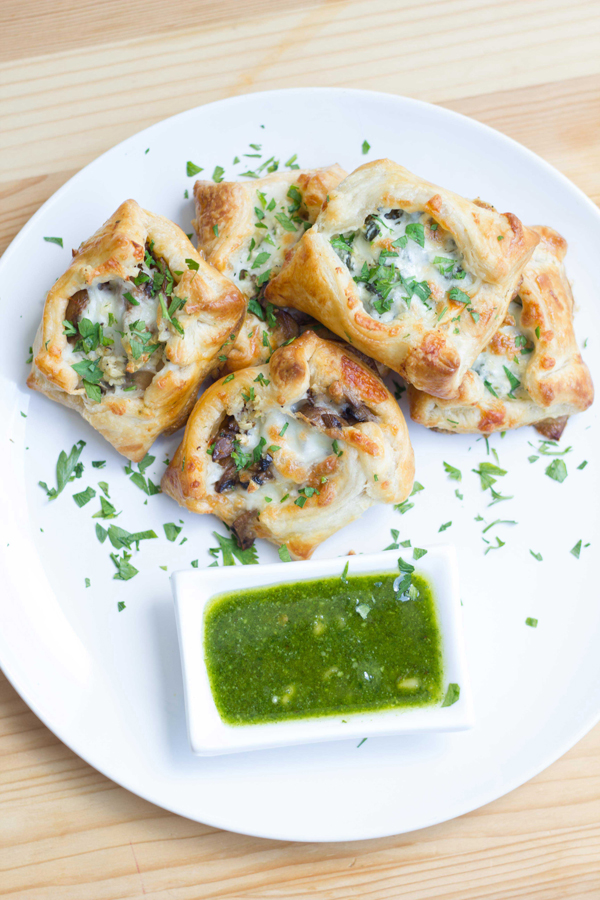 On today's puff pastry adventure I made these sinfully good mini tarts. The first savory tart is filled with sautéed mushrooms, truffle oil and garlic. The second kind with goat cheese, spinach and garlic. Both are topped with mozzeralla before entering the oven to puff up and let the cheese become ooey gooey melty goodness. Oh and let's not forget the fresh pesto sauce for dipping on the side.
Needless to say these savory tarts are the perfect appetizers wining and dining with friends and make a great afternoon pick me up snack when all you need is some good old' carbs!

Savory Tarts with Mushroom Truffle and Spinach Goat Cheese Filling
Ingredients
8-10 frozen puff pastry squares
1 package of mushrooms, diced (any kind you like will work)
1 tablespoon truffle oil
2 cups spinach
4 cloves of garlic, minced
1 egg
shredded mozzarella cheese
½ a cup of goat cheese
1 cup packed fresh basil leaves
1 clove garlic
¼ cup pine nuts
⅓ cup extra-virgin olive oil
Kosher salt and freshly ground black pepper, to taste
¼ cup freshly grated parmesan cheese
Instructions
To make the pesto, add basil, pine nuts, parmesan, garlic clove, salt and pepper, and olive oil into a food processor and pulse until a thick paste is formed. Set aside in the fridge to keep cool.
Let the puff pastry squares defrost for about 20 minutes.
Preheat the oven to 390 degrees F.
Line an oven safe tray with wax paper and arrange the puff pastry squares on it with about ½ an inch of space in between.
In a frying pan, sauté mushrooms in olive oil for 4 minutes on medium/high heat. Add salt and pepper to taste.
Once soft place the mushrooms in a separate bowl and drizzle the truffle oil on top.
Combine the minced garlic with 4 tablespoons olive oil and set aside in a small bowl.
In the same frying pan as the mushrooms, sauté the spinach with 1 tablespoon water for about 3 minutes until the spinach has reduced in half.
Once reduced, add the spinach to a separate bowl with the goat cheese, salt and pepper, mix well and set aside.
To assemble the puff pastries, add one spoonful of the mushroom mixture to the center of the square, top with a teaspoon of mozzarella and a drizzle of the minced garlic and olive oil.
Fold all four corners inwards toward the filling and pinch the ends to create a boat shape.
Do the same with the goat cheese filling, one spoonful of goat cheese and spinach mixture, one teaspoon of mozzarella, a drizzle of minced garlic and olive oil and its ready to be folded.
Repeat until both fillings have been used completely.
In a small bowl crack the egg and whisk thoroughly.
Brush the egg mixture onto the corners and sides of the puff pastry (not on top of the filling) until well covered.
Insert the tarts into the oven for 10-15 minutes until golden brown and crispy.
Remove from oven, plate up and serve with a dipping side of the basil pesto you made. Enjoy!