Am I the only one that can get just as excited about an order of seasoned fries than the burger itself?
For my fellow fry enthusiasts, this recipe is for you. They are hands down the best french fries you'll ever have. It's not enough to sprinkle some salt and call it a day anymore. Lemon zest and rosemary take these crispy seasoned fries to a whole new level.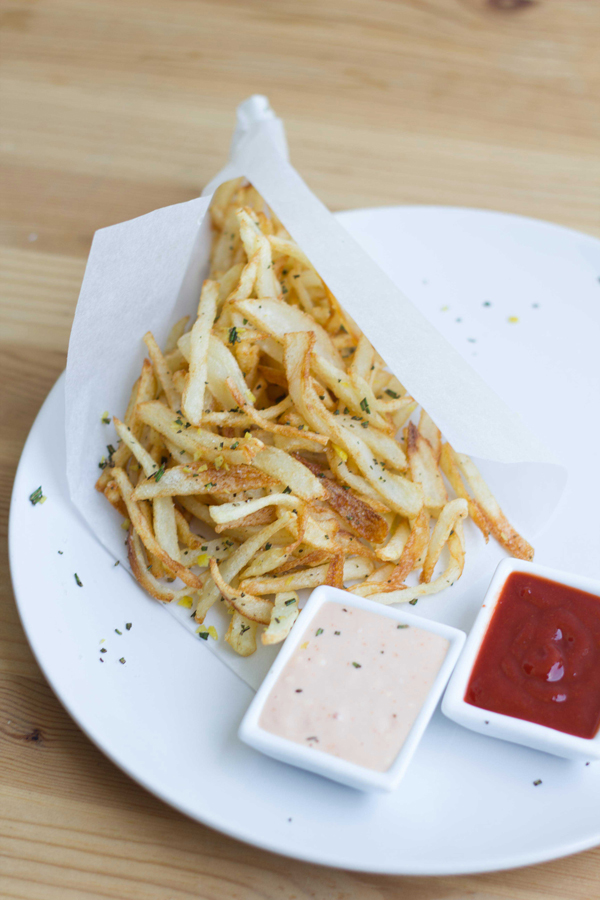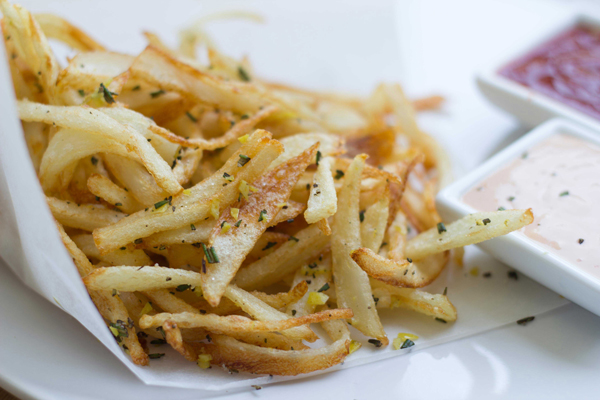 Rosemary Lemon Zest Seasoned Fries
This seasoned fries recipe is the best out there! Crispy crunch thin-cut french fries seasoned with salt, rosemary and grated lemon zest, SO GOOD
Ingredients
4 large potatoes, peeled
3 cups canola oil
zest of 1 lemon
2 sprigs of rosemary, minced
3 tablespoons mayonaise
1 tablespoon ketchup
1 tablespoon tabasco
Instructions
Julien your peeled potatoes into thin slices. Place potato slices on two layers of paper towel and cover with another two layers of paper towel. Pat down on the potatoes until dry.
Heat up the canola oil in a sauce pan on high heat. Test the oil by placing the back end of a wooden spoon and checking to see if it bubbles up. If yes, you're oil is ready. Fry the potatoes in batches, avoiding putting too much in at the same time so the temperature of the oil doesn't lower too much. Fry the potatoes until they are just starting to turn golden brown, but not all the way. Once you reach that point, set them on more paper towels to absorb the excess oil.
Once you've fried the first round, keep the oil on high, and fry the potatoes again. Double frying makes sure they stay crispy and don't get soggy too fast. This time you can fry them until they do reach a full golden brown. Then remove and place on the paper towels again.
Finely chop the lemon zest and rosemary and place in a large bowl with salt. Toss the fries in the seasoning mixture until fully coated.
To make the dipping sauce, stir together mayo, ketchup, and tabasco. Serve with fries and enjoy!