Mmmm, shakshuka…
I wanted to jazz up the classic recipe with this roasted pepper shakshuka. There was once a period of 3 months where I made shakshuka every single day. Why, you ask? Because it's easy, cheap and delicious. Who doesn't have eggs and tomatoes in their kitchen right now? Oren and I would wake up around 11am and treat ourselves to a full Israeli breakfast. I'd do all the cooking and his job was to make sure the bread was toasted and dishes cleaned afterwards. The best deal if you ask me. (I hate cleaning).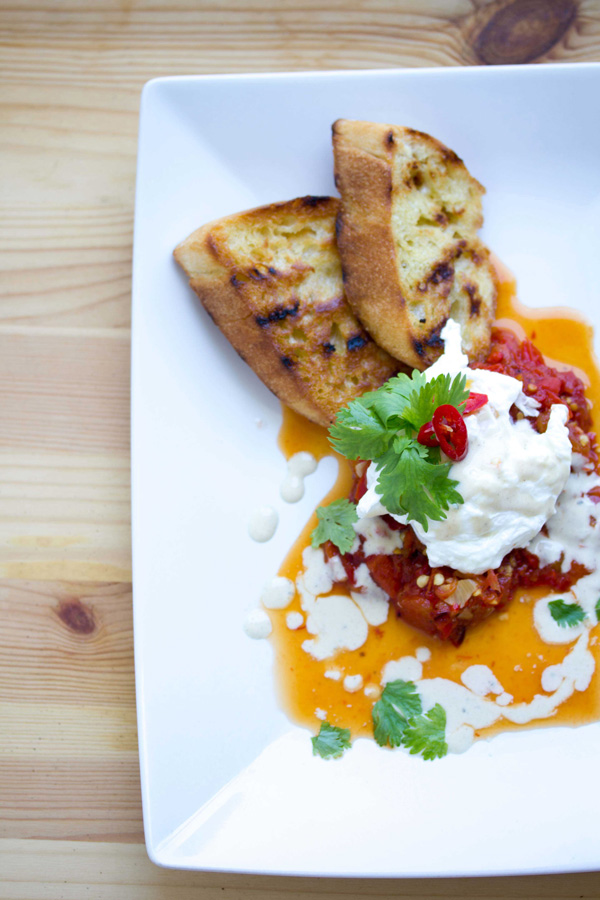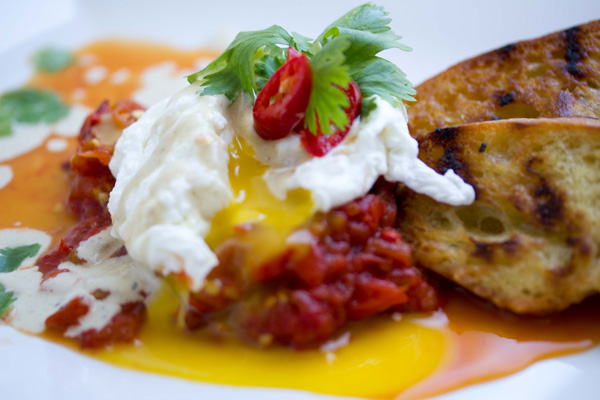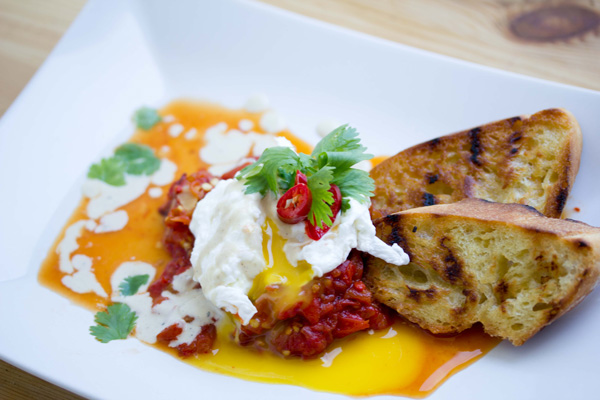 For this roasted pepper shakshuka I decided to change things up a bit. Instead of making a pan tomato sauce, I roasted red peppers, chilis, tomatoes and garlic in the oven to give the sauce a smoky roasted flavor that is making my mouth water just thinking about it. Also, instead of cracking an egg directly into the sauce, I poached one. There's something insanely satisfying about cutting into a poached egg and watching the yolk run out. Top that with a drizzle of tahini and some perfectly toasted baguette slices and you have one hell of a breakfast!

Roasted Pepper Shakshuka with Poached Egg
Ingredients
4 tomatoes
1 red bell pepper
1 red chili pepper
2 cloves garlic
2 eggs
1 tablespoon raw tahini
1 tablespoon lemon juice
1 teaspoon vinegar
cilantro for garnish
Instructions
Preheat your oven to 375 degrees F
Insert sliced red bell peppers,  red chili, tomatoes, and one unpeeled garlic clove on an oven tray lined with foil.
Remove the garlic after 5-7 minutes, let the rest roast for about 10-15 minutes until skin is black and bubbly.
Once roasted chop up all the veggies and add to a sauce pan on medium heat. Add salt and pepper to taste and let it simmer together for 3 minutes.
In a separate pan poach the egg by adding water half way and putting on high heat. Once water has come to a boil add salt and vinegar. Stir the boiling water in the pot with a spoon and crack one egg into the center of the "tornado". Turn heat off and cover the pot for 5 minutes.
After 5 minutes gently remove the egg with a slotted spoon and place over a dollop of the roasted tomato sauce.
For the tahini, add tahini, lemon juice, minced garlic, salt and pepper to a small bowl and stir well. Once combined, add 1 teaspoon of water at a time while stirring until you get the consistency you prefer.