This roasted cauliflower salad is my response to today's growing cauliflower trend. It seems like nowadays everyone is trying to take the cauliflower and transform it into a low calorie version of something else. Cauliflower pizza crust, cauliflower rice, etc…
I say, let's keep the integrity of the cauliflower and showcase it as a main component of the dish itself. Living in Israel has gotten me to respect the cauliflower on its own, with dishes like whole roasted cauliflower being common appetizers at popular eateries like chef Eyal Shani's restaurant, Miznon.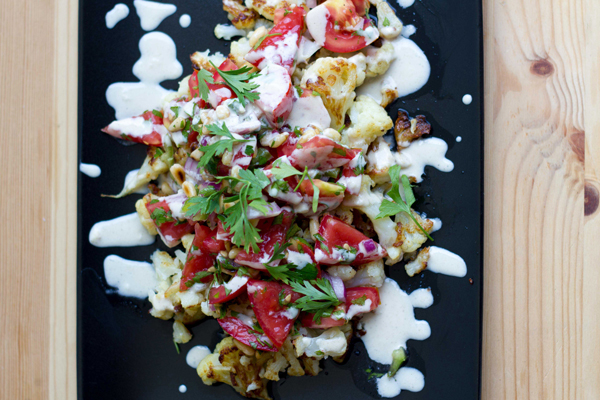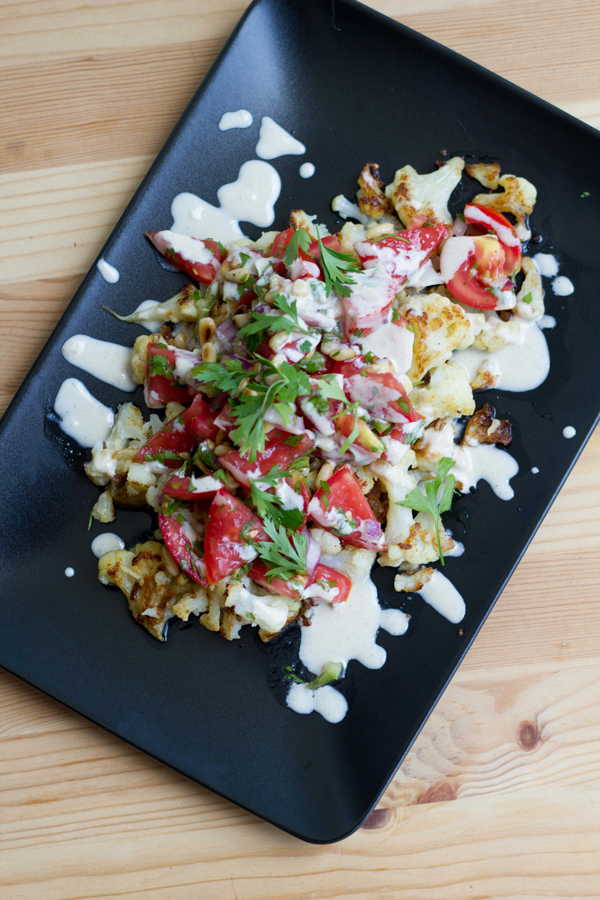 Seriously, you don't know what you're missing when you pulverize cauliflower into little irrecognizable pieces. Simply roasting it until its crispy on the outside and light and fluffy on the inside  like in this roasted cauliflower salad is the perfect way to eat it!
…it also doesn't hurt to add a little pico de gallo with toasted pine nuts on top and a generous drizzle of silky smooth tahini!
This light roasted cauliflower salad is so fresh and vibrant. You get the roasted deep nutty flavor of the cauliflower paired with the bright lemon-y pico de gallo and creamy tahini to tie it all in. It's perfect as an appetizer, side dish, or light lunch.
Roasted Cauliflower Salad with Pico de Gallo
Ingredients
1 head of whole cauliflower, cut into florets
4 tomatoes, diced
1 inch jalapeno, sliced thinly
⅓ cup chopped parsley (you can use cilantro too)
1 small red onion, diced
juice of 1 lemon
1 tablespoon pine nuts
2 tablespoon raw tahini
1 clove of garlic, crushed and minced
3 tablespoons olive oil
1 tablespoon water
Instructions
Before roasting the cauliflower in the oven, boil it for about 5-10 minutes until fork tender. (This step will save you a lot of time.)
Once tender, place the cauliflower on an oven safe sheet and drizzle with 1½ tablespoons of olive oil and season with salt and pepper.
Pop it in the oven at 450 degrees F for another 10-15 minutes until the cauliflower is nice and golden crispy on the outside.
For the pico de gallo, combine the diced tomatoes, jalapeño, red onion, and chopped parsley in a small bowl with ½ tablespoon olive oil, ¾ of the lemon juice and season it with salt and pepper.
For the tahini, stir together the raw tahini, crushed garlic, lemon juice and salt until incorporated well. Then add ½ a tablespoon of water at a time to the tahini and stir until you have the consistency that you like. (The more water you add the more loose and thinned out it will be.)
Toast pine nuts on medium high heat in a small pan for 20 seconds. Make sure they don't burn.
To serve place the roasted cauliflower on the plate first, the top with the pico de gallo and toasted pine nuts.
Drizzle the tahini over the whole thing generously and dig in!