Pita pizzas are perfect for those of us who are dough challenged or just don't have the time to make homemade pizza dough from scratch. These genius little pita pizzas with ooey gooey mozzarella cheese are the perfect solution to getting your pizza fix at home. Even when you buy pizza dough at the grocery store, rolling it out to an even layer and dirtying your entire kitchen counter with flour is not ideal, which is why layering toppings on a piece of pita bread is the best substitute.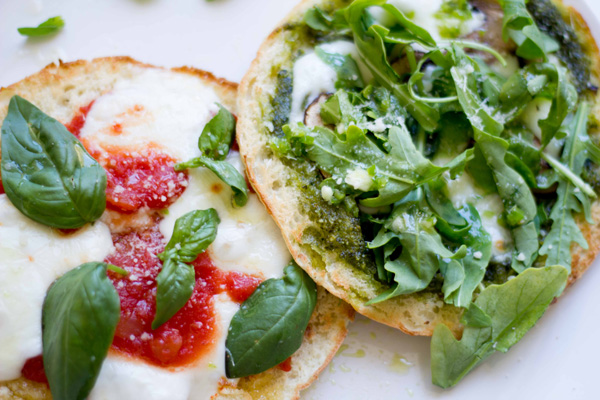 I thought my intense cravings for pizza would subside after pregnancy, but I'm now three months postpartum and still going strong. This time I decided to be a little less lazy than ordering a pizza online and tried to make one at home. Since there's no shortage of pita bread in Israel I thought why not make mini pita pizzas? The result was even better than I expected.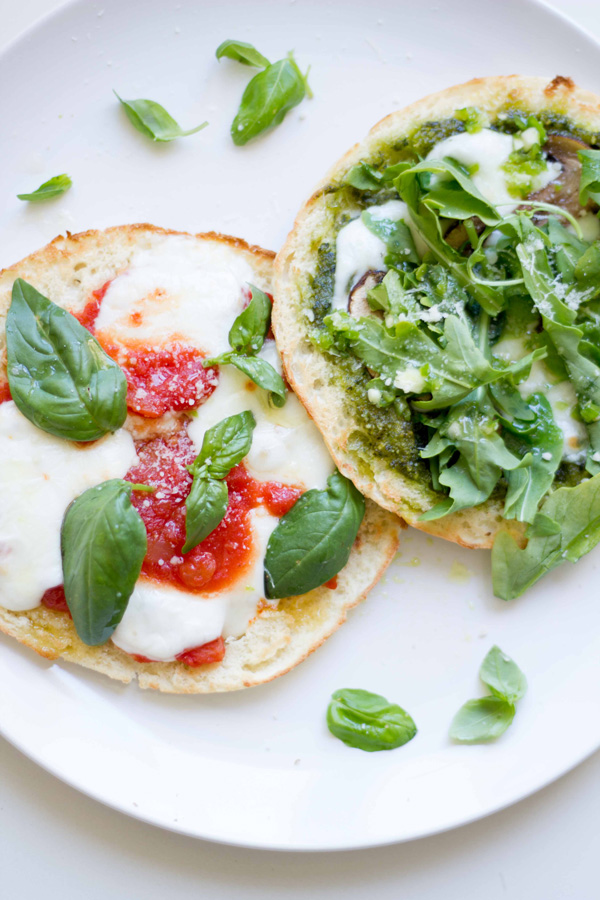 For the first type, I made a classic Margherita pita pizza with marinara sauce, fresh mozzarella and basil (because you can never go wrong with a classic). For the second pita pizza I tried to spice things up with a pesto base, fresh mozzarella, mushrooms, spicy green chili oil and fresh arugula on top.  They both came out amazing! So if you're looking for a quick and easy homemade pizza treat, this is definitely the recipe you've got to try.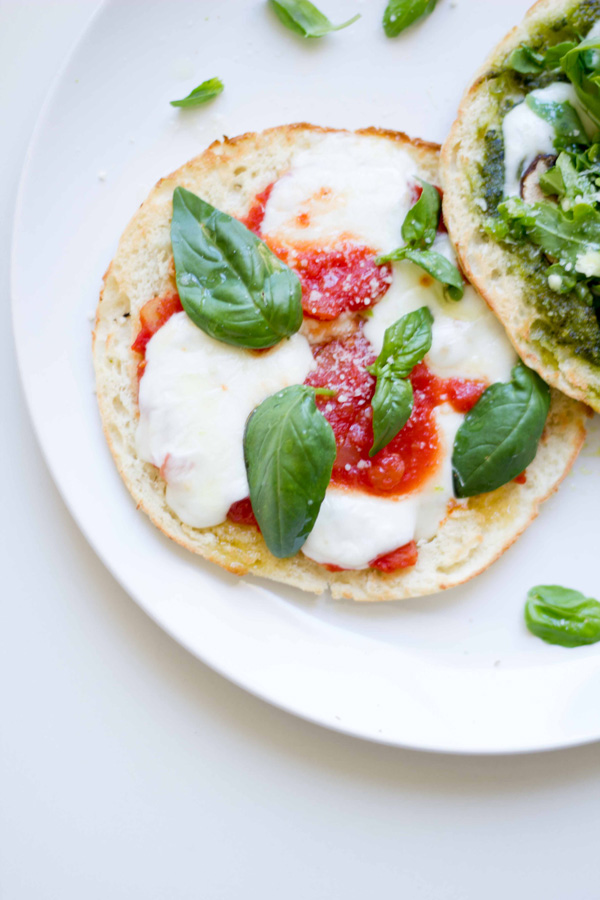 Pita Pizzas with Spicy Green Chili Oil
Ingredients
200 grams fresh mozzarella cheese
2 bunches of basil
⅓ cup olive oil
3 cloves garlic
1 onion
1 tablespoon grated parmesan
4 tomatoes
2 tablespoons tomato paste
¼ cup pine nuts
3 green chilis
5 mushroom
4 pitas
2 cups washed arugula
Instructions
Dice the onion and add to one tablespoon of olive oil heated in a medium size pot. Let it cook down for 2 minutes. Finely chop 2 cloves of garlic and add to the pot. Reduce the heat to low.
Add 4 tomatoes to a food processor and pulse until the tomatoes have completely broken down. Add the tomato sauce to the pot and raise the heat to high.
Add the tomato paste, salt, pepper and let the sauce come to a boil. Once boiling, reduce the heat to low and simmer for 15 minutes.
Add the basil, pine nuts, 1 clove of garlic, parmesan, salt and pepper to the food processor. Pulse while pouring in olive oil until you get a paste consistency.
Finely chop the green chilis and add to a small bowl with 2 tablespoons olive oil and salt. Set aside.
Slice mushrooms, mozzarella cheese, and set aside.
Cut the pitas in half and place on an oven tray.
For the Margherita pizza: spread marinara sauce on the pita. Add 4 slices of mozzarella cheese on top.
For the Pesto pizza: spread the pesto on the pita. Add 4 slices of mozzarella and sliced mushrooms on top.
Insert the pita pizzas into the oven and broil them on the highest heat for about 4 minutes.
Remove the pita pizzas and sprinkle green chili oil over the top, add arugula to the pesto pizza and basil leaves to the Margherita. Enjoy!
SaveSave