I'm trying to savor these last few weeks of summer with some summer inspired recipes like this basil pesto pasta salad. I'm also on a mission to eat lighter dishes with more of a variety of vegetables, because I've basically been eating bread and cheese for the past few months. Why, you ask? I just finished my first trimester (yes, I'm pregnant!) and I used to think appetite changes were just a myth, but no, they're very real. I'm no vegetarian but the sight of meat started to repulse me and I couldn't bare to eat anything other than simple foods like toasted bread, bagels and cream cheese, and of course pizza. …lots of pizza. Any other mommas/mommas-to-be go through this? Comment below and tell me all about it!
Only eating bread can't possibly be good for me or the baby so now that my tastes are starting to balance out again I'm trying to get in as much fruits and veggies in as possible. That's where this yummy pesto pasta salad comes in.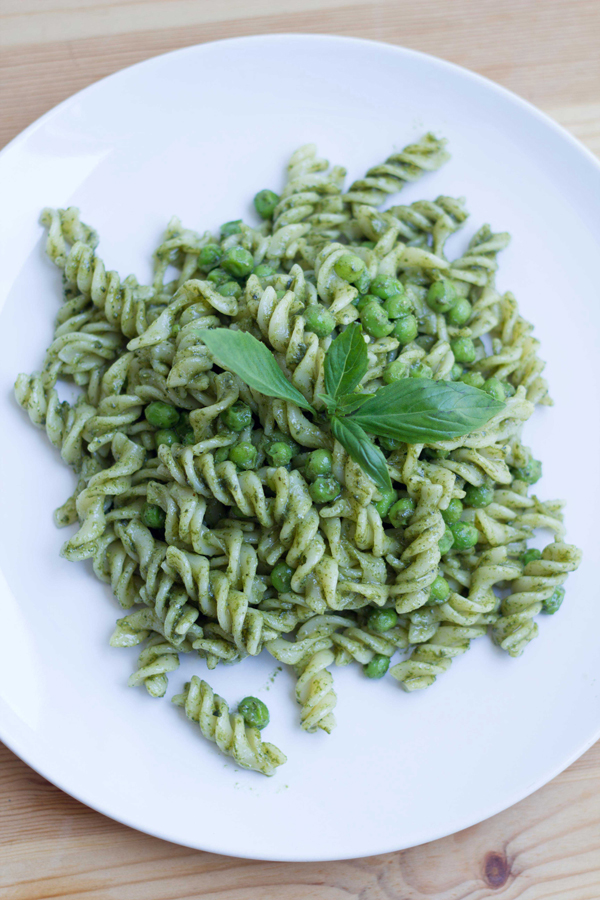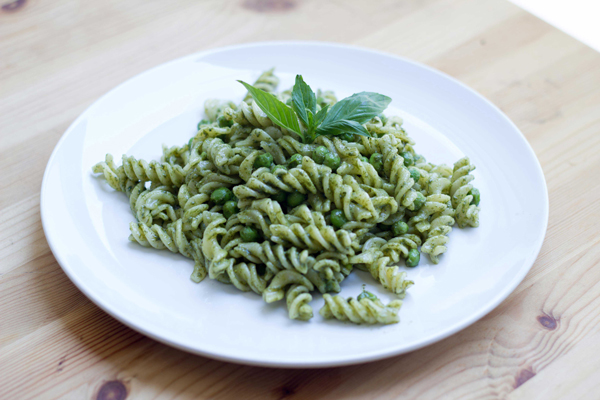 By adding garden peas to this dish I boosted the nutrients you'll get from this simple dish and added a sweet contrast to your typical pesto pasta. I also recommend adding asparagus if you have some. I couldn't find any at the grocery store or else it definitely would have been incorporated.

Pesto Pasta Salad with Garden Peas
This pesto pasta salad recipe includes fresh garden peas as a boost of sweet vegetable flavor. The pesto is made with fresh basil, pine nuts, and parmesan cheese.
Ingredients
1 package of fresh basil
¼ cup of grated parmesan
⅓ cup of olive oil or more if needed
1 clove of garlic
salt and pepper to taste
1 cup frozen garden peas
1 package fusilli pasta
¼ cup of pine nuts
Instructions
Bring water to a boil in large pot. Once boiling, add salt and a drizzle of olive oil. Toss the fusilli pasta in and let it cook for about 15 minutes until the pasta is al dente. At the 10 minute mark, add in the frozen peas and let them cook with the rest of the pasta. The peas will be done together with the pasta.
To make the pesto, add the basil, parmesan, garlic, and pine nuts into a food processor with salt and pepper to taste. Drizzle in the olive oil while the mixture pulses until you've added just enough to form a paste like consistency.
Strain the pasta and peas, mix together with the pesto in a large bowl and enjoy! p.s. a little extra parmesan or a sprinkling of red pepper flakes never hurt anybody 🙂