As Fall approaches, I'm starting to make more comforting hearty recipes like this Persian tomato okra stew.
Persian cuisine has many different variations of stews or "khoresht" served over rice. If you ask other 2nd generation Iranian Americans, they'll tell you there's the green stews, the red stews, and the brown stew. And if you ask someone who was actually born and raised in Iran they'll tell you there's khoreshteh ghormeh sabzi, karaps, bademjan, lubia sabz, bamieh, and fesenjoon.
I'm sure there are more I'm missing, but this specific one is called "Khoreshteh Bamieh" and it is made with tomatoes, okra, and beef.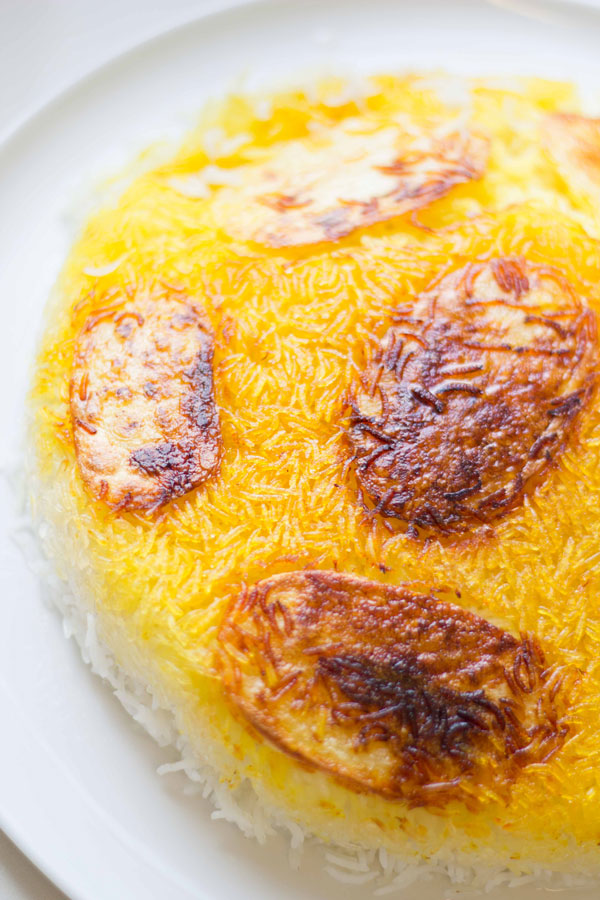 Growing up, this Persian tomato okra stew was a staple on my mom's dinner table, and it was one of my favorites. You'd think the tomatoes make this stew overly sweet, but the addition of dried Persian lemons or unripened sour grapes (ghooreh) give it an excellent sour note that balances out the sweetness of the tomatoes. Yes, unripened grapes are actually a big part of Persian cooking and if you have a sour tooth, you'll love them!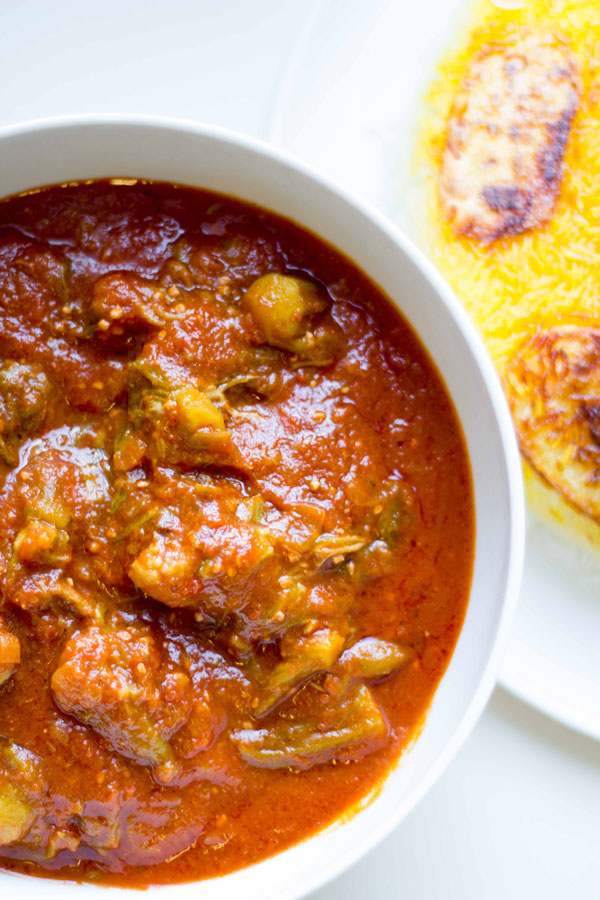 As complex as this dish looks (or tastes), it's actually fairly easy to make. The best part about stews is that you just throw a bunch of ingredients together in a pot and let them cook low and slow for hours.
This combination of beef, okra, tomatoes, and dry lemons simmer together for around 5-6 hours, filling the house with an amazing aroma. You'll know it's ready to serve when the beef is fork tender and the okra is cooked through.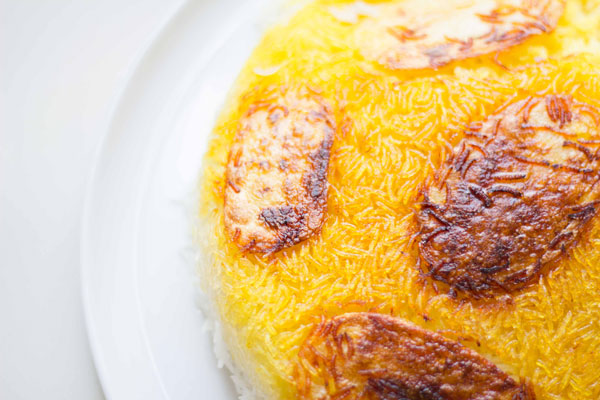 The stew is best served over Persian rice with crispy potato tahdig, and with a heaping side of sabzi (herbs like Persian basil, tarragon, mint, scallions, and radishes). The perfect bite is getting a spoonful of fluffy white basmati rice, a bit of crispy rice, and warm stew on top. Follow it with a bite from some fresh herbs to cleanse your palate and repeat 🙂

Persian Tomato Okra Stew
Ingredients
1-2 yellow onions
1 tbs. canola oil
1 lb. beef muscle
1 tbs. turmeric powder
6-7 tomatoes
1 can tomato sauce
2 cups okra
1-2 dried Persian lemons or ¼ cup of ghooreh (unripened grapes)
Instructions
Dice your onions and put them in a large pot with canola oil over medium heat.
Once the onions have become translucent, add the beef muscle to the pot with the turmeric powder. Sautee together for 3-5 minutes.
Add your tomatoes to the food processor and pulse until they've become completely pureed.
Add your fresh tomato sauce and 1 can of store-bought tomato sauce to the pot.
Add salt and pepper to taste, and the persian dried lemons or unripened grapes.
Raise the heat to high and let the contents of the pot come to a boil.
Once boiling, lower the heat to low and let the stew simmer together for 5-6 hours.
Half an hour before the stew is ready, add in the okra and raise the heat to medium-low
Continue simmering until the okra is cooked through and the beef is fork tender.
Serve over Persian rice and enjoy!
SaveSaveSaveSave