Persian Tahchin is by far one of my favorite rice dishes. My mom never actually made it, but I remember eating it at a friend's house for the first time and falling in love. It has all my favorite flavors in one, tangy, sour, sweet and a crispy texture from the tahdig (bottom crusted rice) that is out of this world.
We Persians love our rice, often making it the star of the meal and not just another side dish.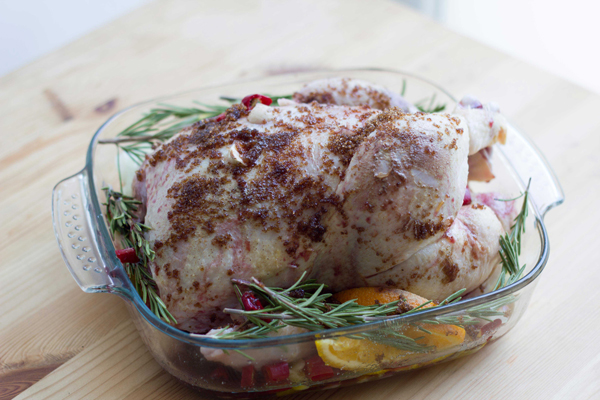 Traditionally, Persian Tahchin is made with layered chicken breast cooked inside the rice, but I like my chicken separate so I roasted it by itself. This way I could also add my own flavors to it. This gorgeous bird was roasted in the oven with rosemary, orange juice, lemon juice, wine, brown sugar, red chilis, garlic and onions. The smell in the house was intoxicating.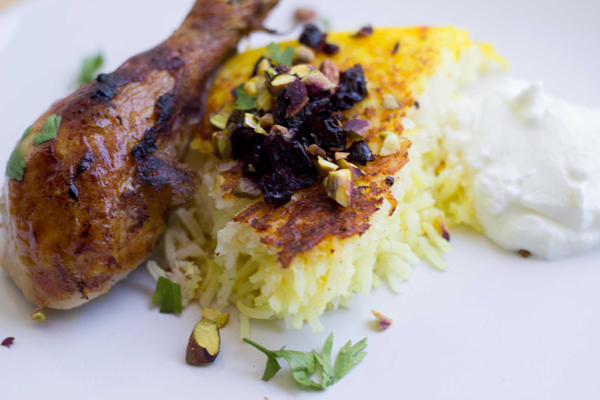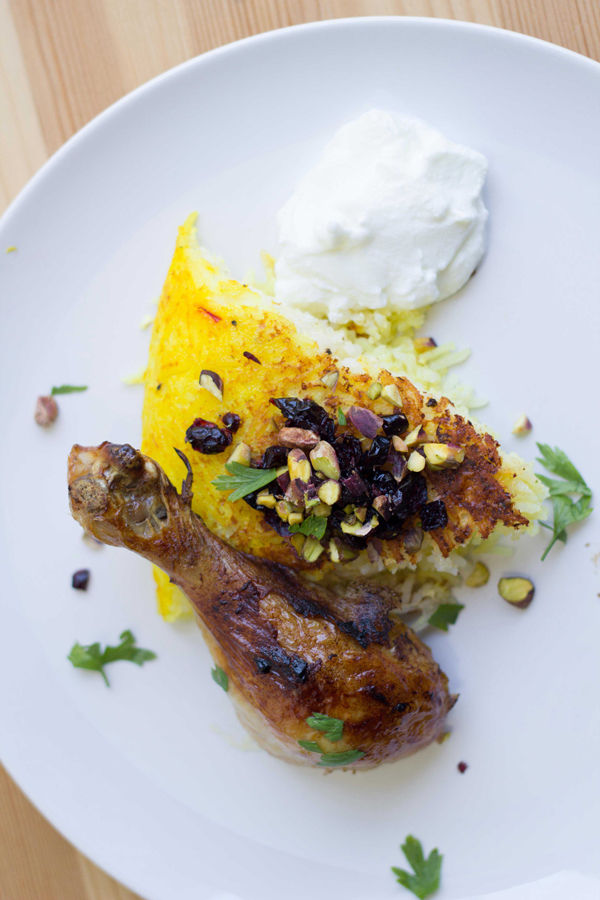 Together this plate of roasted chicken, Persian Tahchin rice and tangy yogurt is a winning dish for your dinner table. For those of you that keep kosher, non-dairy yogurt is readily available nowadays so give it a try, or swap the chicken for fish 🙂

Persian Tahchin Rice with Roasted Chicken
Ingredients
Tahchin
2½ cups long grain basmati rice, rinsed and soaked in water with 1-2 tablespoons of salt for 2 hours. Drain before cooking.
3 egg yolks
1½ cups yogurt (or non-dairy yogurt)
½ teaspoon ground saffron, dissolved in 3-4 tablespoons of hot water
2-3 tablespoons vegetable oil
6 cups water
Chicken
1 whole chicken
1 onion, sliced
5 cloves garlic, roughly chopped
salt and pepper
2 red chilis, sliced
⅓ cup of red wine
1 orange, juiced
1 lemon, juiced
½ cup of brown sugar
3 tablespoons olive oil
Instructions
Chicken
Preheat the oven to 400 degrees F.
Place the whole chicken in an oven safe dish, sprinkle the onion, garlic, salt, pepper, red chilis, red, wine, orange juice, lemon juice, brown sugar and olive oil evenly over the chicken and cover with aluminum foil.
Cook the chicken in the oven for 1 hour covered with the aluminum foil.
After 1 hour, remove the foil and raise the heat to 500 degrees F.
Cook the chicken uncovered for another 30-40 minutes until golden brown.
Tahchin
Bring 6 cups of water to a boil in a large pot over medium/high heat.
Once boiling add the rice and boil together for 8-10 minutes until the rice is cooked on the edges and firm in the middle.
Once this happens, strain the rice and rinse thoroughly with cold water.
In a medium sized bowl mix together the yogurt, egg yolks, salt and pepper. Add 2 cups of the rice to the yogurt mixture and combine well.
In the same large pot add the vegetable oil, 1 teaspoon saffron water.
On top of that layer the yogurt rice, and then the remaining rice.
Over the top sprinkle the remaining saffron water.
Raise the heat to medium high and wait until you see the steam rising under the lid (approximately 15 minutes)
Once the steam rises, lower the heat to low and let cook for 1 hour.
After an hour flip the pot over a large platter and watch the crispy tahdig create a "cake" of rice. Serve along side the roasted chicken and some more yogurt if you like. Enjoy!