Growing up with a Persian momma has it's ups and downs but one definite advantage is the home cooking! Especially when you're feeling under the weather and she whips up the most comforting bowl of chicken soup. Mmmmmm….
This chicken soup departs from the traditional with its addition of dried Persian limes and turmeric for the distinct flavor and yellow coloring.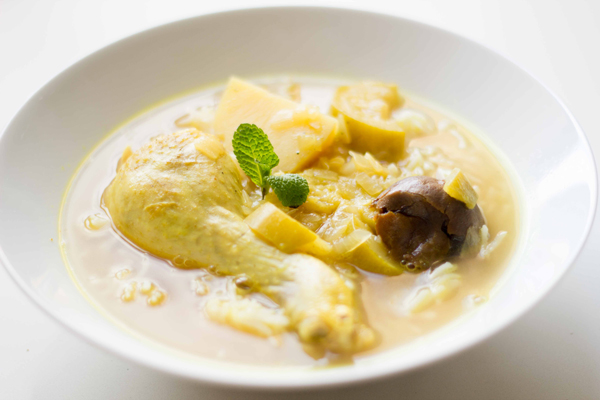 If you're looking to spice up your recipe arsenal than this chicken soup recipe is for you. You'll definitely wow the family with its unique flavor.
Dried Persian limes are used in a lot of Persian recipes. Their bitter, sourness imparts a sharp lemon-y flavor to everything you add them to, so if you're already one to squeeze a fresh lemon or lime into your soup you might as well start cooking with them. The longer the dried lime cooks with the stock, the deeper the citrus flavor.
And don't get me started about the amazing aroma it adds to your home while the chicken soup is simmering away.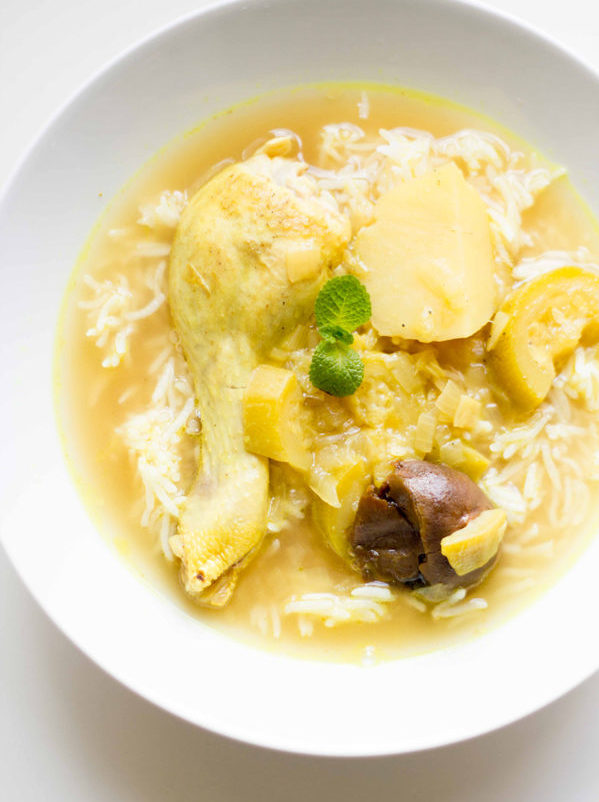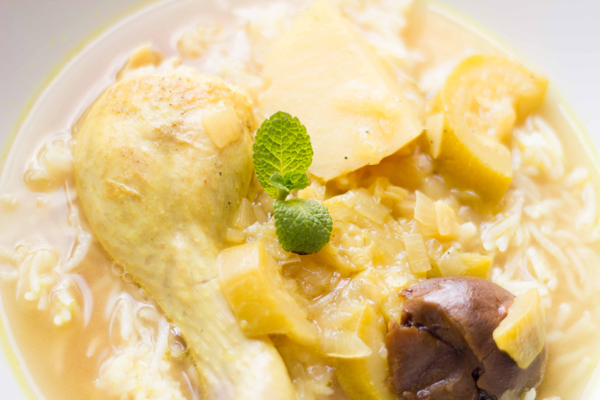 This chicken soup is typically served over fluffy Persian rice (just the way I like it). It also usually includes carrots, but I hate carrots so I swapped them for zucchini.

Persian Lemon Chicken Soup
This traditional Persian Chicken Soup recipe is sets apart with the addition of dried Persian limes, tangy, sour and delicious! www.seriousspice.com
Ingredients
2 chicken thighs
1 turkey neck (optional)
1 tablespoon turmeric powder
1 large yellow onion
1 potato
2 zucchinis (or carrots)
2 dried Persian limes
salt and pepper to taste
1 tablespoon canola oil
Instructions
Heat the canola oil in a large soup pot over medium heat.
Dice the onion and add to the pot with the turmeric powder. Cook for about 2 minutes until translucent.
Cut the zucchini and peeled potato into chunks and drop them into the pot along with the chicken, turkey neck, and dried limes. Salt and pepper to taste.
Cover the contents of the pot with water and bring to a boil over high heat.
Once boiling, lower the heat to the lowest and let it simmer for 1½-2 hours. The soup is ready once the chicken is falling off the bones tender and the veggies are cooked through.