This tabouli recipe is one of my all time favorite summer salads.
A regular at my mom's dinner parties and get togethers, if you find yourself at our home for any occasion this salad will always be on the appetizer table. It's a cross between a traditional tabouli, but instead of the wheat we swap in orzo. You can also make it with couscous.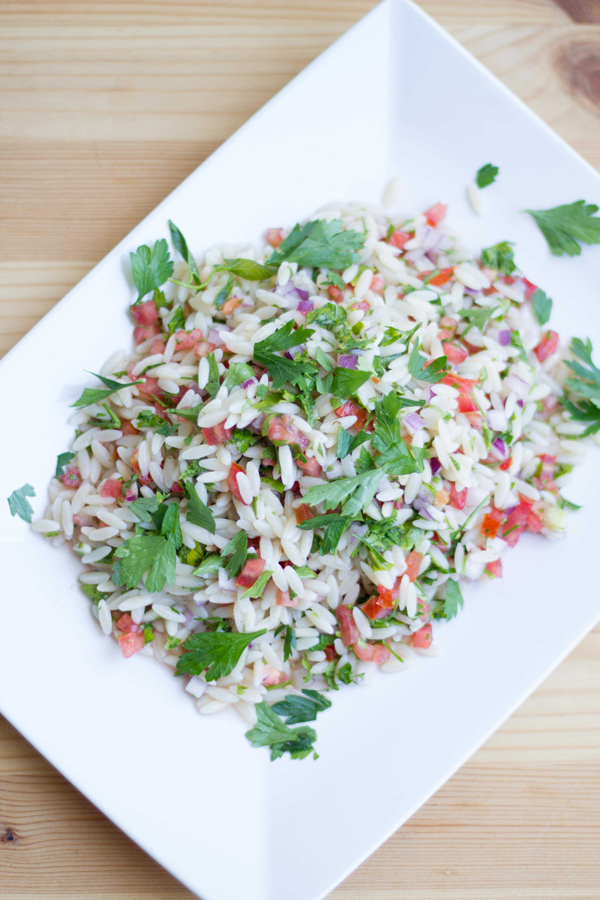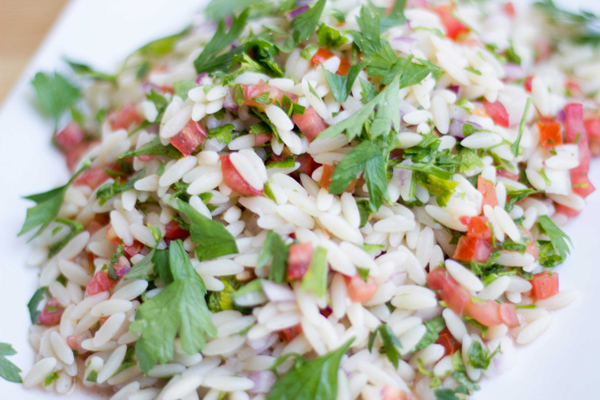 I love how light, refreshing and tangy this tabouli salad is. Perfect for a light lunch or for entertaining with at day time events. It's so simple yet so delicious and perfect just the way it is.
Orzo Tabouli Salad
This tabouli salad recipe is a twist on the traditional. Instead of using bulgur, I swapped for orzo pasta, maintaining the tanginess of the lemon, parsley and tomato.
Ingredients
Ingredients:
1 pack orzo pasta
2 cups chopped parsley
2 medium tomatoes, diced
1 large red onion, diced
the juice of 2 lemons
salt and pepper to taste
2 pinches of salt to flavor the pasta water
3 tablespoons olive oil
Instructions
Bring water halfway to the top of a large pot to a boil. Once boiling, add 2 pinches of salt and 1 tablespoon olive oil, then the orzo and stir. Let cook for 10-15 minutes until al-dente
Dice the tomatoes, onion, and chop the parsley. Add to a large glass bowl.
Once the orzo is ready, strain the pasta water out and wash the orzo in cold water to cool it down.
Add the orzo to the large glass bowl with salt, pepper, lemon juice, and remaining 2 tablespoons olive oil. Stir to combine thoroughly and enjoy!