I haven't been a fan of chicken lately (weird pregnancy side effect) but if there's one way I'll always eat chicken its in the deep fried crispy form, drizzled with a delicious sauce, just like in this orange chicken recipe!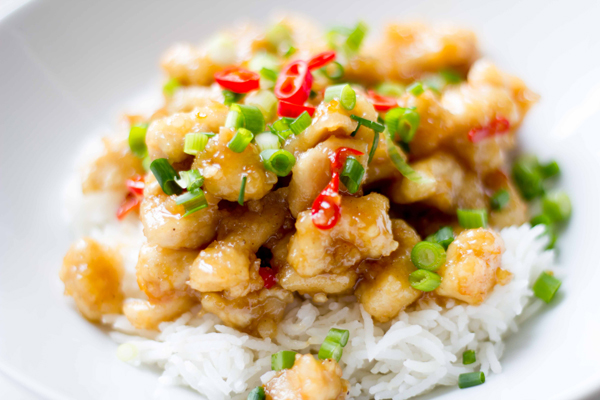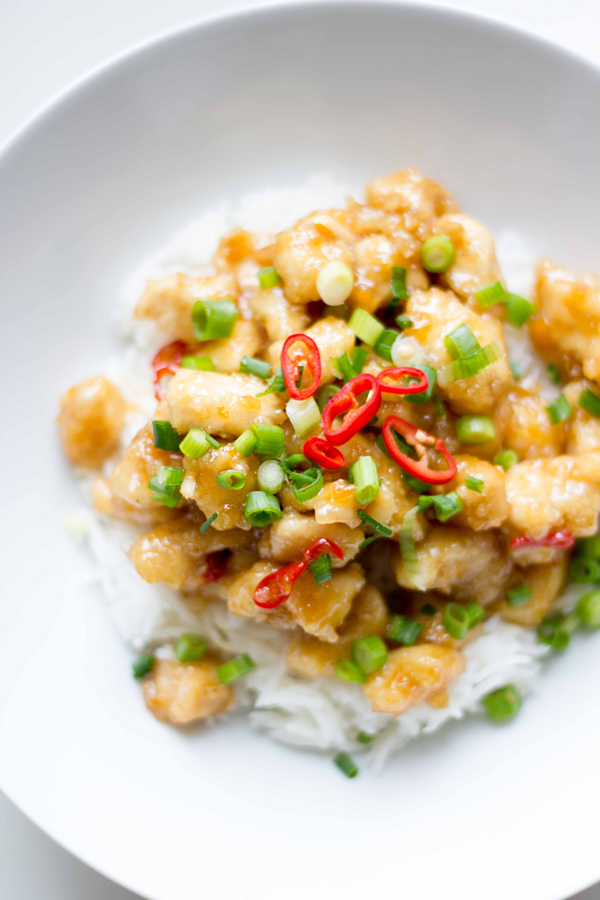 This orange chicken dish is one of my favorites. Crispy fried bits of chicken dressed in a tangy, sweet, sour, orange flavored sauce and served on a fluffy bed of rice is so good! Of course I had to add a little heat to the recipe with the addition of sliced red chilis. You can also easily swap chicken for beef and make this a crispy orange beef dish.
When you're eating Chinese food at your local mall food court it may seem like these type of dishes are really complicated to make, but they're actually quite easy! You just need to master the 3 different components and combine them; rice, fried chicken, orange sauce.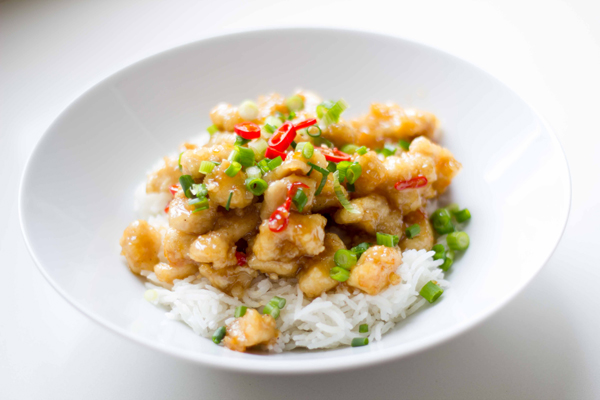 Orange Chicken with Sesame and Spicy Red Chili
This orange chicken recipe is made with sesame oil, scallions and spicy red chilis. So good!
Ingredients
1 pack chicken breasts
1-2 cups cornstarch
2 cups short grain rice
2 cups canola oil for frying
1 orange, juiced
1 lemon, juiced
1½ teaspoons orange zest
1 teaspoon lemon zest
2 cloves garlic
1 tablespoon ginger, finely chopped
1 spicy red chili
⅔ cup chopped scallions
¼ cup soy sauce
1 teaspoon sesame oil
2 tablespoons rice vinegar
⅔ cup brown sugar
2 tablespoons honey
salt and pepper to taste
Instructions
Start by adding your rice to a pot with 4 cups of water and salt generously. Cover the lid and bring to a boil. Once boiling, lower the heat to the lowest and let simmer for 15-20 minutes. Set aside.
Cut the chicken breasts into 1" cubes and place in a big bowl. Add 1 cup of corn starch and mix to cover the chicken pieces. Keep adding additional corn starch as needed until each piece is evenly coated and dry.
Heat 2 cups canola oil in a pan on high heat for deep frying. Use the base of a wooden spoon to check if the oil is hot enough by placing it in the oil and seeing if it bubbles up.
When oil is ready, drop in chicken pieces in 2-3 batches and fry for 2-3 minutes on each side until crispy. Place fried chicken onto a plate with paper towels to absorb excess oil. Repeat until you're done with each batch.
To make the sauce, finely chop your garlic, ginger, and red chili. Add them to a small pot with 1 tablespoon canola oil, along with the orange and lemon zest. Sauté until fragrant and soft, about 1 minute.
Next, add the orange juice, lemon juice, soy sauce, rice vinegar, brown sugar, honey, and sesame oil to the sauce pot and bring to a boil.
Combine 1 teaspoon cornstarch with 1-2 teaspoons water and mix until there are no clumps. Add this mixture to the boiling sauce pan and let cook together for 1-2 more minutes until the sauce has successfully thickened up.
Combine your fried chicken pieces with the orange sauce in another pan and mix over high heat for another 1-2 minutes until fully incorporated.
Serve the orange chicken over a scoop of rice and garnish with the scallions. Enjoy!
SaveSave