My version of a lazy breakfast, this meal is so simple yet so filling and delicious. Labneh is one of my all time favorite cheeses. It's tangy flavor pairs perfectly with middle eastern spices and is a breakfast staple here in the Middle East.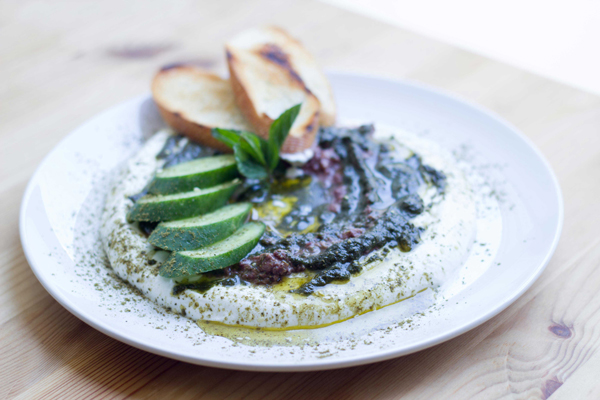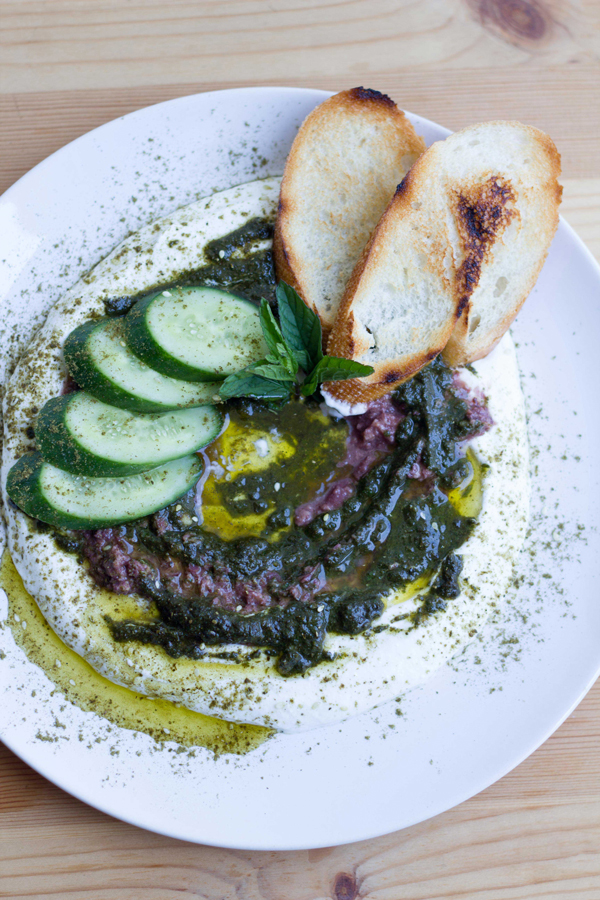 To jazz up this simple labneh plate, I added a simple mint pesto and kalamata olive tapenade. The mint pesto along with the sliced cucumbers add a pop of freshness, while the tapenade gives it that briny sour taste. Topped with a drizzle of olive oil and sprinkle of za'atar you've got yourself one heck of a breakfast. Grab a piece of toasted bread and dig in!

Labneh with Za'atar, Mint Pesto and Kalamata Olive Tapenade
This labneh plate recipe is a great simple breakfast or appetizer for a dinner party. Sprinkle on some za'atar, mint pesto and kalamata olive tapenade and you're sure to impress!
Ingredients
1 cup labneh cheese
½ cup of mint leaves
1 tablespoon pine nuts
¼ cup olive oil
¼ cup kalamata olives, pitted
1 cucumber, sliced
1 tablespoon za'atar
Instructions
Add mint, pine nuts, olive oil, salt and pepper to a food processor and pulse until formed into a paste. Remove from food processor into a separate bowl.
Add kalamata olives to the food processor and pulse until a paste is formed. Remove and set aside.
Swirl the labneh onto a plate. Add the mint pesto, tapenade, sliced cucumbers, a drizzle of olive oil and a sprinkle of za'atar on top. Enjoy!