Nothing says good morning like some huevos rancheros! This might not be the traditional recipe but its just as fresh, bright and full of zesty, spicy flavors. If avocados in Israel were in season, they would have definitely been invited to the party too.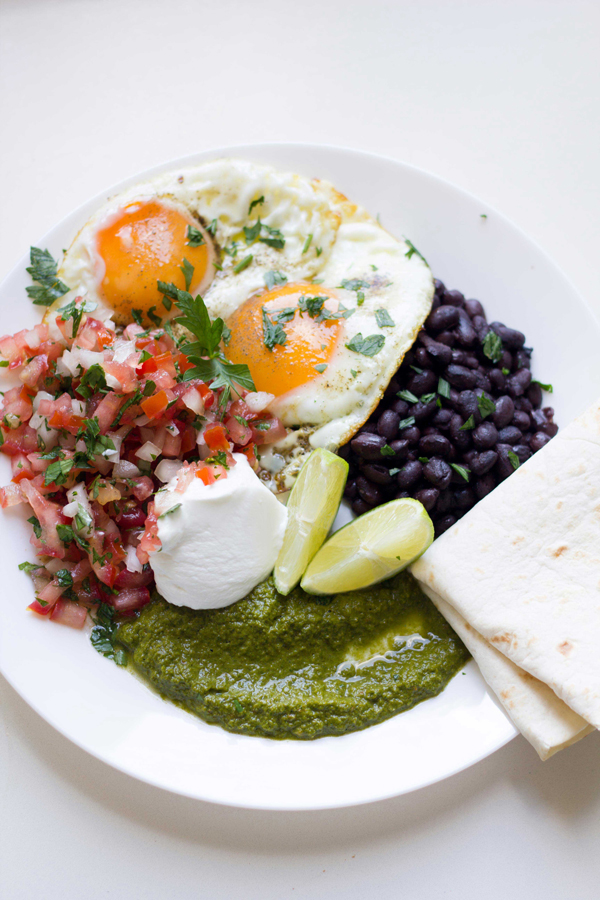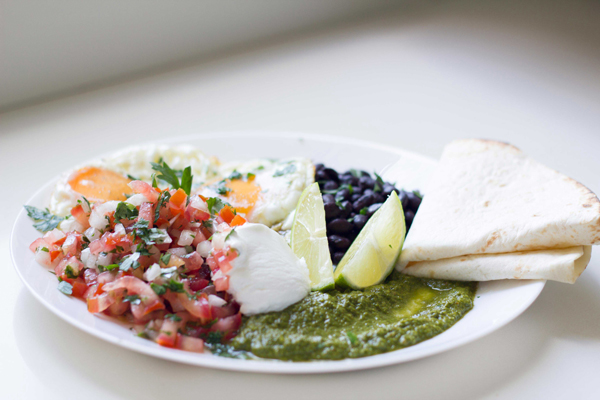 You can also transform this huevos rancheros plate into a breakfast burrito by adding some rice and wrapping it all up in the tortilla, but I love making small bites with the tortilla on the side.

Huevos Rancheros with Parsley Salsa
This huevos rancheros recipe is the perfect breakfast plate that includes sunny side up eggs, pico de gallo, parsley salsa verde, black beans and tortillas!
Ingredients
3 tomatoes (2 large, 1 small)
1 dollop sour cream
1 cup black beans, canned
1 bunch parsley
2 eggs
2 corn or flour tortillas
1½ limes, juiced
1 white onion
1 teaspoon minced jalapeno
Instructions
Add the can of blacked beans to a small skillet on medium heat. Season with 1 teaspoon salt, 1 teaspoon pepper, and 1 teaspoon cumin. Mix and let simmer for 3-5 minutes. Remove from heat and set aside.
Dice the 2 large tomatoes, ½ white onion and add to a small bowl. Mix in the jalapeño, 1 tablespoon chopped parsley, ½ the lime juice, salt, pepper, drizzle of olive oil and set aside.
To a food processor add the remaining parsley, white onion, 1 small tomato (quartered), lime juice, salt, pepper, and 1 tablespoon olive oil. Pulse until fully incorporated and set aside.
Heat olive oil in the same skilled used for the beans on high heat. Crack 2 eggs into the pan and lower the heat to medium low. Let fry for about 2-3 minutes until the whites are fully cooked through.
Lightly toast the tortillas over an open gas flame for about 30 seconds. Assemble all the components onto a plate with a dollop of sour cream and enjoy!