If you're not familiar with shakshuka, it's the fiery red star of the table you see pictured above. The origin of the dish is debatable, but what's not up for debate is that– it's absolutely delicious, perfect for any meal of the day, inexpensive, and easy to make!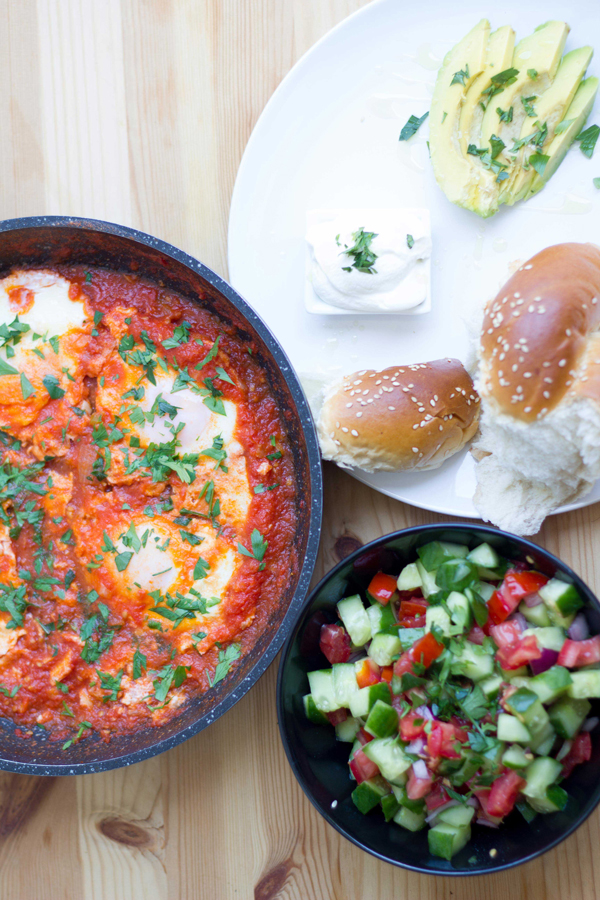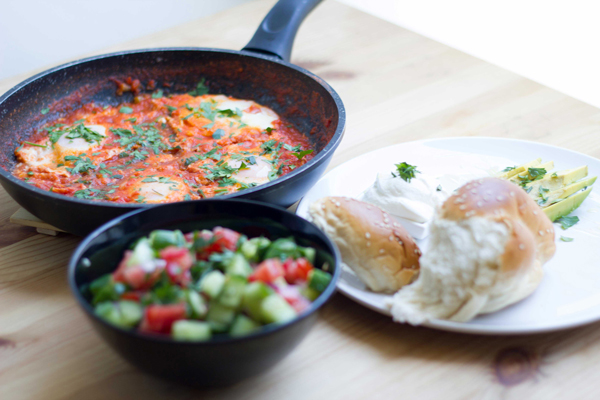 Shakshuka is a dish made up of eggs cooked inside a rich tomato sauce usually in a cast iron skillet. Israeli Breakfasts and brunches almost always feature shakshuka as the main dish, fluffy challah bread to dip into it, and a variety of side salads. If you're visiting Israel and wondering where's the best place to experience shakshuka, everyone will tell you to go straight to Dr. Shakshuka. As the name suggests he knows a thing or two about this Israeli staple.
The shakshuka I make is slightly different than the traditional and a bit more simple. My sauce is a simple tomato sauce with no bell peppers (although you're welcome to add them) and naturally, I add more spice by including jalapeños and crushed red peppers to the mix. My favorite sides are perfectly toasted challah bread, avocados seasoned with lime juice, Israeli white cheese, and a simple Israeli salad. Most restaurants serve shakshuka with tahini on the side as well.

Israeli Style Shakshuka Brunch
This Israeli Style Shakshuka Brunch recipe with fresh Israeli salad, avocado, cheese and toasted flaky challah bread is the best thing to wake up to!
Ingredients
5 vine ripened tomatoes
4-5 eggs
½ a yellow onion, diced
2 cloves of garlic, minced
½ a jalapeno, diced
1 teaspoon crushed red pepper flakes
1 avocado
3 tablespoons Israeli white cheese (also known as Quark)
2 cucumbers, diced
1½ tomatoes, diced
½ a red onion, diced
the juice of 4 limes
3 tablespoons olive oil
challah bread
1 tablespoon chopped parsley
Instructions
Start the shakshuka off by heating 2 tablespoons of olive oil on medium heat in the cast iron skillet. Once hot, add the diced yellow onion, lower the heat to medium-low and cook for 1-2 minutes until soft and translucent. Add the garlic, jalapeño, and red pepper flakes next.
In the meantime slice the 5 tomatoes into quarters and add them into your food processor. Pulse until a sauce is formed. Add the tomato sauce into the skillet and raise the heat to high. Season the mixture with salt and pepper to taste.
Once boiling, lower the heat to low and crack the 4 or 5 eggs one at a time into the pan, giving them enough space in between. Cover the skillet with a lid and let cook until eggs are at the consistency that you prefer. 2-3 minutes for over easy, longer for more cooked eggs.
While the eggs are cooking, dice up the cucumbers, tomatoes, and red onion and add to a bowl. Season with the juice of 2 limes, salt and pepper, and 1 tablespoon olive oil. Mix and set aside.
Slice the avocado and set on the plate, seasoning with lime juice, salt and pepper. Add the white cheese to a small bowl and toast the challah bread. Once the shakshuka is ready, sprinkle with the chopped parsley, plate everything up and enjoy!