Today's Israeli style burgers recipe came to me as I thought about how to combine all the flavors my husband loves in a non-traditional way. Last night he mentioned he wanted k'tzitzot (meat balls) in a pita with tahini for dinner tomorrow and naturally I was bored of making things the regular way so I thought why not make Israeli style meatballs into burgers instead, and use the tahini as a burger sauce? Best. Idea. Yet.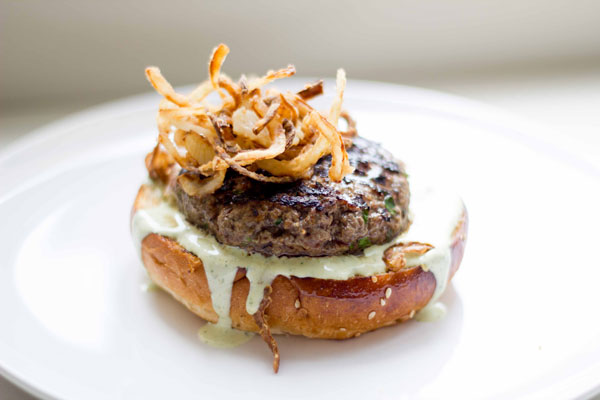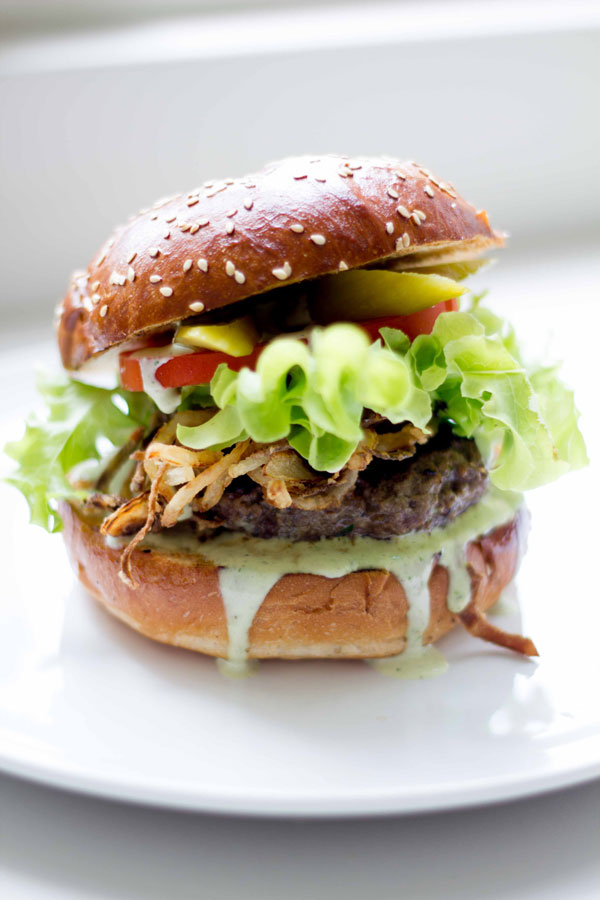 I thought of all the elements that make up a classic burger and how I can twist them to utilize bold Israeli flavors instead. So, the bun became a za'atar spiced bun. The burger itself I flavored with cumin, paprika, onions, garlic, parsley and pine nuts, (like they do at Israeli barbecues). I added crispy fried onions as a topping because I know the key to my husband's heart <3 …And, instead of ketchup, mayo or mustard, I made a spicy green chili and parsley flavored tahini sauce. (and yes, you'll probably want to put this sauce on everything from now on.)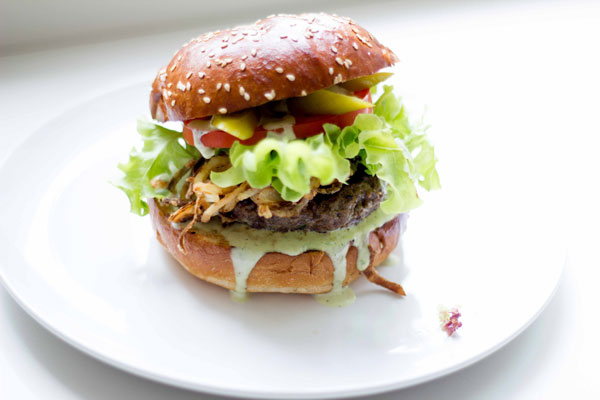 So, if you're looking for a unique burger recipe that's sure to impress the entire family (especially the meat lovers) this Israeli style burgers recipe is the one for you!
Disclaimer: I only say Israeli-style because I live in Israel and these flavor combinations are very common here, but I do know that the spices and ingredients mentioned come from all over the Middle-East 🙂

Israeli Style Burgers
These Israeli style burgers are a great twist on a classic with za'atar spiced buns, spicy green tahini sauce, and middle-eastern flavored beef patties!
Ingredients
1kg ground beef
2 large onions
2 cloves garlic
1½ cups fresh chopped parsley
¼ cup olive oil
1 tablespoon cumin
1 tablespoon paprika
¼ cup pine nuts
¼ cup canola oil
3 tablespoons white flour
1 teaspoon green chili or jalapeno
1 cup raw tahini paste
3 ice cubes
¼ cup lemon juice
6 hamburger buns
1 cup lettuce
2 tomatoes sliced
4 canned pickles sliced
1 tablespoon za'atar seasoning
Instructions
Add 1 onion and 1 clove of garlic to a food processor and pulse until smooth/liquid texture. Add the onion/garlic paste to the ground beef, along with the cumin, paprika, salt, pepper, olive oil, 1 cup chopped parsley, and pine nuts. Mix to incorporate and set aside.
For the tahini, add the tahini paste, ice cubes, 1 clove garlic, green chili, lemon juice, ½ cup chopped parsley, salt and pepper, and ¼ cup of cold water to a blender. Pulse until smoothly incorporated. Add 1 tablespoon of water as needed to get the required creamy consistency.
Thinly slice the other onion into rings or half rings and put in a bowl with white flour. Mix until the onion rings are coated well and no longer wet.
To fry the onion topping, heat a small skillet with canola oil on high heat. Once the oil is very hot, add in the floured onions and deep fry for 5 minutes until crispy. Remove from skillet and set aside on paper towels that absorb the excess oil.
Heat a large grill pan on high heat with 1 tablespoon canola oil. Once hot, form the beef mixture into large patties, making sure to make an indent in the middle. Grill the patties for 2-3 minutes on each side, or until your desired doneness.
Drizzle olive oil over the buns and dust with za'atar seasoning. Toast the buns on the grill pan or in the oven.
To assemble the burgers, add tahini sauce, then the burger patties, lettuce, tomato, pickles, crispy onions, and more tahini sauce. Enjoy!
SaveSaveSaveSaveSaveSaveSaveSave
SaveSave