Sure, I can walk out the door and choose from 5,349 different shawarma places to eat at but there's something special about making yourself an Israeli chicken shawarma sandwich at home from scratch.
Oren, my husband, and I are planning on moving to the states in about a year and knowing that he will be away from his home, his family and friends, has made me step up my game with cooking Israeli food (especially his favorite Israeli chicken shawarma). I know what its like to be far from home and to have a bowl of Persian food fill me up with fuzzy feelings of comfort and family, so I'd love to do the same for him when he'll need it. His family is originally from Yemen and I have yet to master Yemeni food but one baby step at a time is good enough.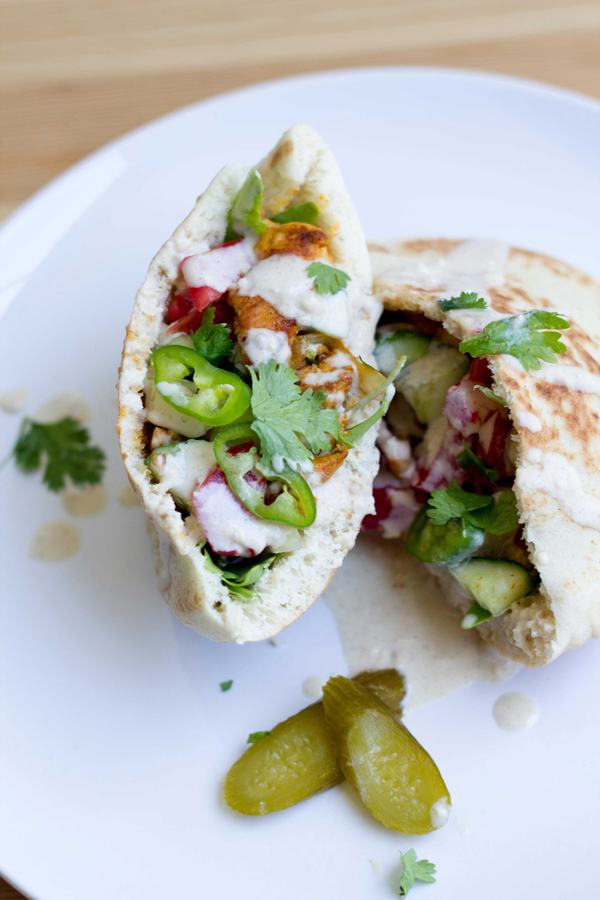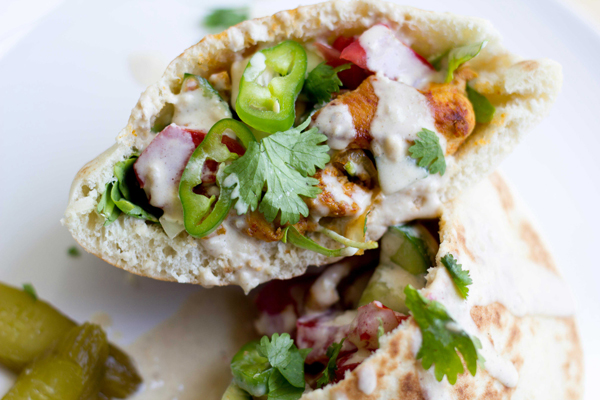 Obviously I don't have a shawarma revolver thing at home, so this recipe was made pan fried, but the seasonings on the chicken are what give it the shawarma flavor. These yummy fluffy pitas are filled with spicy chicken shawarma, caramelized onions, fresh Israeli salad, hummus, creamy tahini and topped with some sliced jalapeño. They make a great dinner or lunch and only take about 20 minutes to prepare.

Israeli Chicken Shawarma Pita Sandwich
Ingredients
1 lb. boneless skinless chicken breast
1 teaspoon smoked paprika
1 teaspoon cumin
1 teaspoon turmeric
1 teaspoon cayenne (optional)
2½ tablespoons olive oil
2 lemons, juiced
3 cucumbers, diced
1 tomato, diced
1½ onions
4 pitas, lightly toasted
½ cup hummus
1 tablespoon raw tahini paste
1 small clove garlic, minced
1 jalapeno, sliced (optional)
Instructions
Prepare the salad by combining diced cucumbers, tomato and ½ an onion with salt, pepper, ½ a tablespoon of olive oil and the juice of 1 lemon.
For the tahini stir the tahini paste with the garlic, juice of ½ a lemon and salt. Once incorporated stir in an additional 1 teaspoon of water at a time until you reach the consistency you want (light & creamy).
Slice 1 onion thinly and add to a non-stick skillet on medium heat. Lower the heat to low and let cook for 4-5 minutes.
Once translucent, remove from pan and set aside.
Season the chicken breast with cayenne, turmeric, cumin, paprika, salt, pepper, 1 tablespoon olive oil and the juice of ½ a lemon.
Heat the non-stick skillet to high heat. Add the chicken breast and let sear on one side for 1 minute. Once well seared on one side, add the onions back to the pan and stir with the chicken on high heat for another 2-3 minutes until done.
Take the toasted pita and slice in half.
Spread hummus on the inside and stuff with the chicken and onion mixture and Israeli salad. Top the pitas with the tahini and sliced jalapeños and Be'TeAvon! (Hebrew for bon appetite)