If you couldn't tell already, I am obsessed with Mexican food! (and these homemade nachos totally hit the spot today)
When I'm back in the states you'll find me scarfing down a burrito or taco at least once or twice a week, but while I'm home in Israel it's a different story. Coming across quality Mexican food in Tel Aviv is difficult to say the least, which is why I resort to perfecting homemade versions of the things I'm craving at the moment. My current craving at 8 months pregnant has been nachos, so I went to great lengths to make it happen!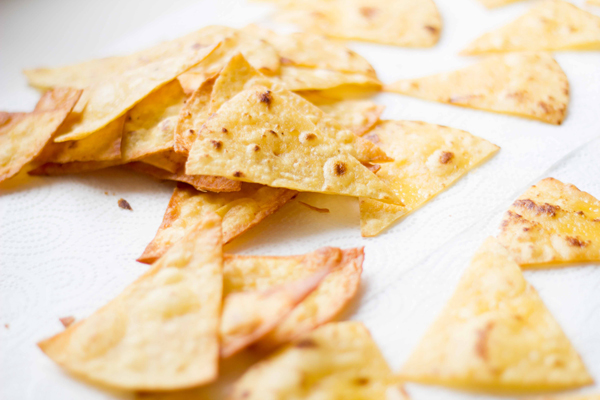 First of all, finding tortilla chips for making homemade nachos is a nightmare in this country. When you come across this dilemma the only thing to do is make your own of course! Pictured above are my corn tortilla chips I made by cutting tortillas into chip size and deep frying them for a couple seconds. The result was pretty amazing! (Definitely more time consuming, but totally worth it)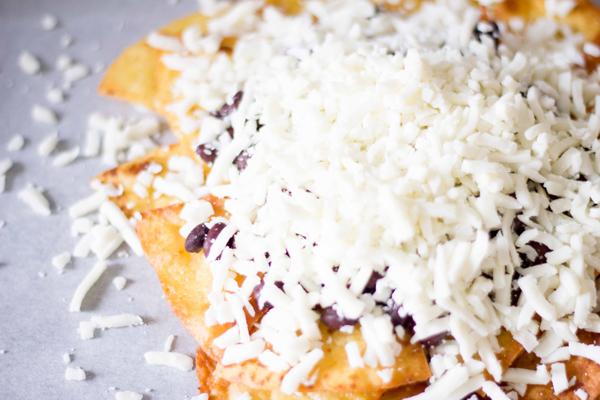 After frying up some tortilla chips I layered them on a baking sheet, spread some canned black beans over that and sprinkled the whole thing generously with grated mozzarella cheese. At this point you just pop it in the oven broiler for a couple minutes until the cheese has melted through and you're ready to pile on the rest of the flavors.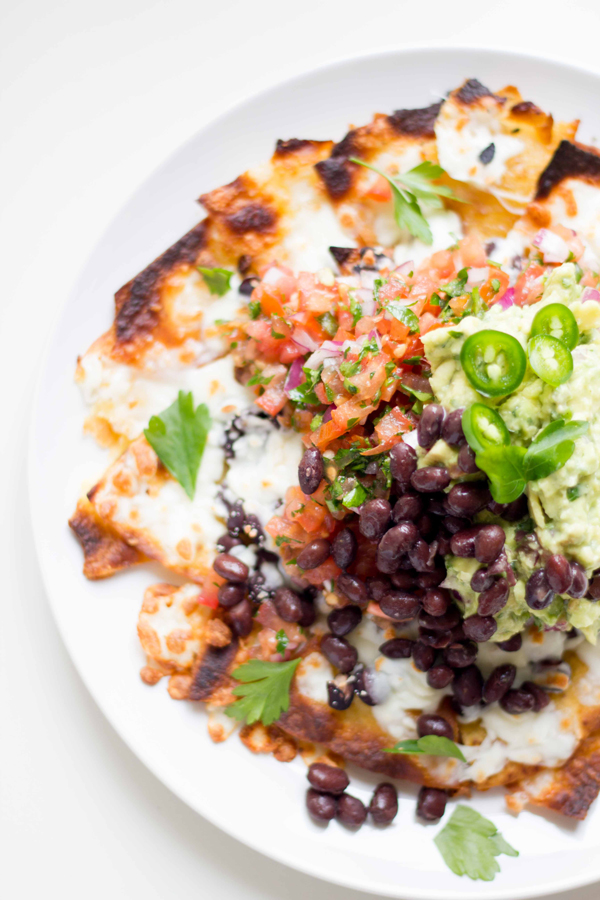 No homemade nachos is complete without some fresh pico de gallo and guacamole. The recipes I used for this are pretty basic and super easy to recreate. I start with a base of chopped red onions, jalapeños, and cilantro for both dips. Later I dice up tomatoes for the pico de gallo and smash some avocados for the guacamole. Both get dressed with salt, pepper, a dash of olive oil, and lime juice.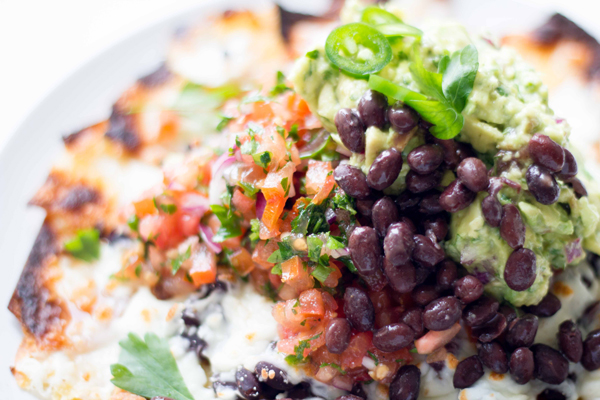 Homemade Nachos with Black Beans and Mozzarella Cheese
This vegetarian homemade nachos recipe is made with melted mozzarella cheese, black beans, pico de gallo, and homemade guacamole. It's definitely a meal your whole family will enjoy!
Ingredients
1 bag of tortilla chips (corn or flour, whichever you prefer)
1 can black beans
1 cup grated mozzarella cheese
2 medium tomatoes
1 red onion
3 avocados
½ cup of chopped cilantro
1 jalapeno
2 limes
1 teaspoon olive oil
Instructions
Start by making the pico de gallo and guacamole. Dice a red onion and separate evenly into two bowls.
Finely chop the jalapeño and cilantro and separate evenly into the two bowls as well.
Dice the tomatoes and place in one bowl.
Scoop three avocados out of their skin and place in the other bowl.
Juice the limes and drizzle half into one bowl and the other half in the other bowl. Add salt and pepper to taste in each bowl.
Drizzle olive oil into the pico de gallo. Give both salads a good mix and set aside.
Lay out the tortilla chips on a baking tray and spread the black beans evenly over them. Next, add the grated mozzarella over the top and pop in the oven on broil for 2-3 minutes until cheese has fully melted.
Take the nachos out of the oven and add the pico de gallo and guacamole to the top. You can also add a dollop of sour cream and enjoy!