All I can say about this burrito bowl is YUM!
After too many years of being deprived of good Mexican food living outside the States, I learned how to make my own burrito bowls at home.
…and it's so easy.
If you're looking for a healthy filling, hearty lunch, this is it.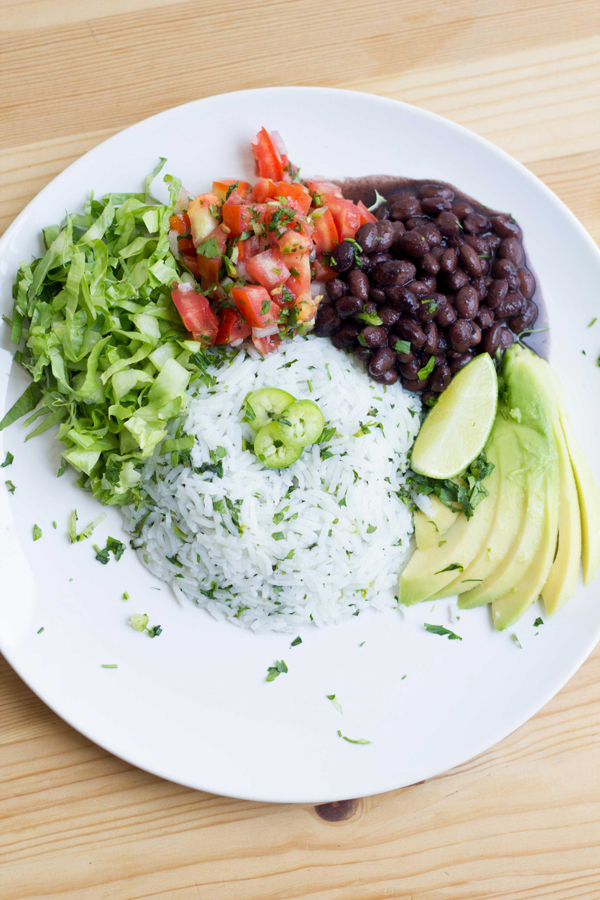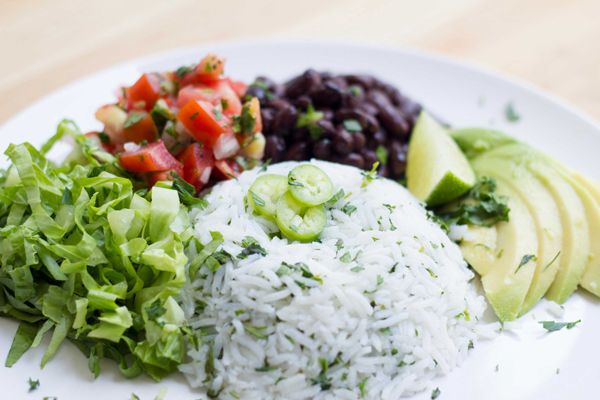 The separate components in this burrito bowl are so simple to make and when mixed together you won't believe you're eating a homemade meal. Plus, you're getting protein, veggies, carbs, and healthy fats all in one dish.

Homemade Burrito Bowl with Cilantro Lime Rice
This homemade veggie burrito bowl recipe is made with fresh tomato salsa, black beans, creamy avocado, and cilantro lime rice. Nothing beats the freshness of making it at home!
Ingredients
1 cup rice
2 cups water
⅔ cup of chopped cilantro
3 medium tomatoes, diced
1 red onion, diced
1 can of black beans, washed
2 cups chopped romain lettuce
1 avocado
1 teaspoon olive oil
1 inch of a jalapeño, minced
the juice of 3 limes
Instructions
Bring the rice, water and salt to a boil in a small pot on high heat. Once boiling, lower the heat to the lowest and let cook covered for 15 minutes until rice is fully cooked through. Add the juice of 1½ limes and ½ the chopped cilantro to the rice and mix.
Combine the tomatoes, other ½ of cilantro, red onion, jalapeño, juice of 1 lime, olive oil, salt and pepper in a small bowl and set aside.
Dice (or slice) the avocado and combine with salt and pepper and the juice of ½ a a lime. Set aside
Assemble the bowl by adding rice to the bottom, and lettuce, tomato salsa, avocado, and black beans surrounding it. Enjoy!