The inspiration for this gorgeous herb salad came from a similar one I always order at one of my favorite cafes. From the moment I first ordered their herb salad I was hooked. With a few modifications I was able to make it my own and enjoy it on this lovely summer afternoon.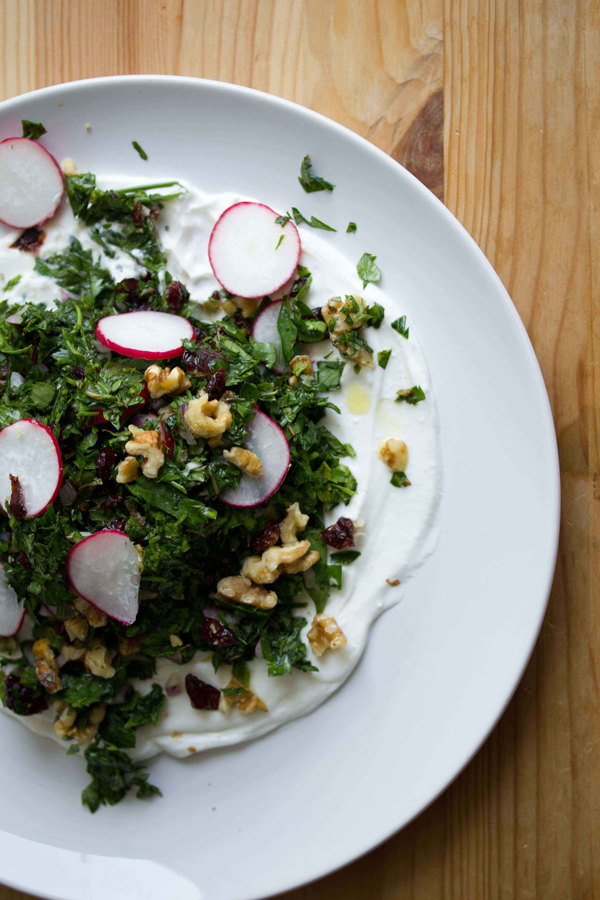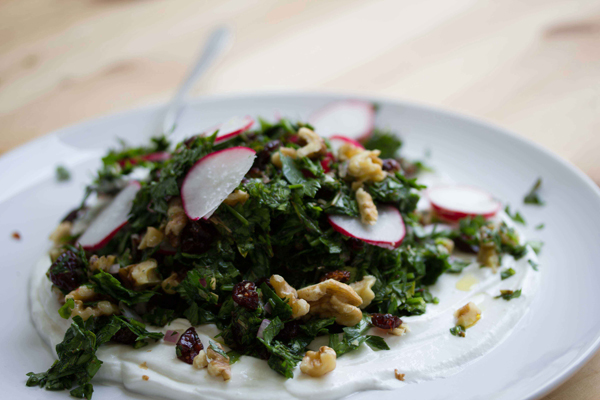 A bright combination of parsley, cilantro and mint are tossed with radishes, walnuts, and dried cranberries. All that herb salad goodness sits on a bed of fresh tangy labaneh cheese and is dressed with a sweet and sour pomegranate vinaigrette. YUM.

Herb Salad With Pomegranate Vinaigrette
Ingredients
1 cup chopped parsley
½ cup chopped cilantro
⅓ cup chopped mint
3 radishes, sliced
1 tablespoon chopped walnuts
½ a small red onion, diced
1 tablespoon dried cranberries
⅓ cup labaneh cheese
Pomegranate Vinaigrette
⅓ cup of pomegranate juice
2 tablespoons olive oil
1 teaspoon honey
½ tablespoon white wine vinegar
salt and pepper
Instructions
Toss parsley, cilantro, mint, radishes, walnuts, red onion and dried cranberries in a bowl.
Dress with the pomegranate vinaigrette.
Spread labaneh in a circular motion on the plate and set the dressed salad on top.
Pomegranate Vinaigrette
Combine pomegranate juice, honey, white wine vinegar, salt and pepper.
While continuously stirring the mixture, drizzle in olive oil slowly to combine evenly.