Harissa is a North African hot chili pepper paste that is an extremely common condiment in Israel and all over the Middle East. Jewish Immigrants from Morocco, Tunisia, and Algeria all brought their own versions of this spicy sauce with them and you can hardly walk into any Israeli restaurant nowadays without being served some Harissa on the side.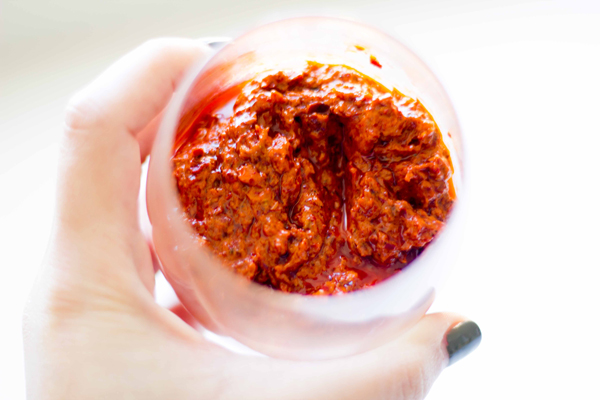 My husband grew up eating Harissa and really loves spicy food so we always have some on hand in the fridge. This week I wanted to take a crack at making my own version of homemade Harissa and spice it up even more by adding my own secret spice weapon; the habanero.
In the six years I've lived in Israel I've never seen fresh habaneros available at the grocery store until last week. The moment my eyes spotted them I knew I had to take them home and figure out what to do with them. My "A-ha!" moment came when I thought of making Harissa and combining the two flavors.
If a typical Harissa recipe rates a 7 out of 10 for spiciness, my habanero Harissa would be a 9. But of course you can always adjust the spiciness to your liking by adding more sweet peppers and less habanero and spicy peppers to the mix. Either way, if you have a spicy tooth I'm sure you're gonna love this hot chili paste and I won't be surprised if you start spreading it on every thing you eat from now on.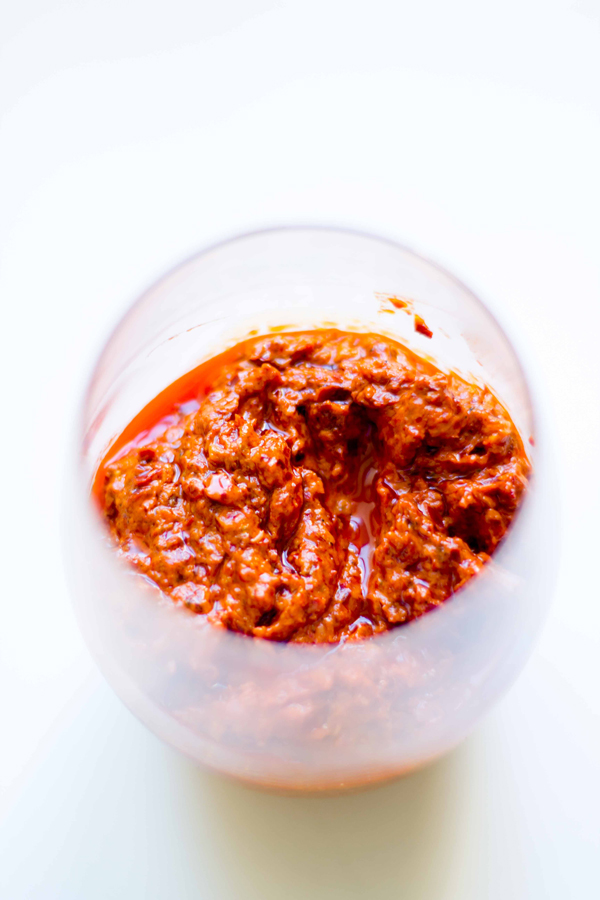 Habanero Harissa Hot Sauce
This habanero harissa recipe spices up the traditional harissa paste by adding spicy habanero peppers to the mix. Try this at your own risk!
Ingredients
1 cup sweet dried red peppers
½ cup spicy dried red chilis
1 habanero
5 sweet mini peppers
3 cloves garlic
1 tablespoon dried coriander seeds
1 cup sunflower seed oil (or canola)
salt and pepper to taste
Instructions
Remove the seeds from all the dried peppers (both sweet and spicy) and place the seedless peppers in your food processor. I recommend handling all peppers with gloves on!
Roast the habanero and sweet mini peppers over open stove fire and remove once the skin has softened and become black (approximately 3-5 minutes).
Peel off the blackened roasted skin from the habanero and sweet mini peppers, remove the seeds and place them all in the food processor as well.
Last thing to add before starting the food processor is the garlic cloves, salt, pepper, coriander seeds and oil.
Start the food processor and let the ingredients combine until a paste is formed. Taste to make sure the spicy to sweet ratio is right for you, if not adjust accordingly.
Strain the extra juices and store the Harissa in your fridge for one-two weeks.
SaveSave