It's June in Tel Aviv. The temperature outside is 82 degrees fahrenheit and the only thing I can imagine myself enjoying for lunch today is a light summer salad. I'm also in full-time bikini body mode so this grilled salmon asparagus salad has been my best friend lately.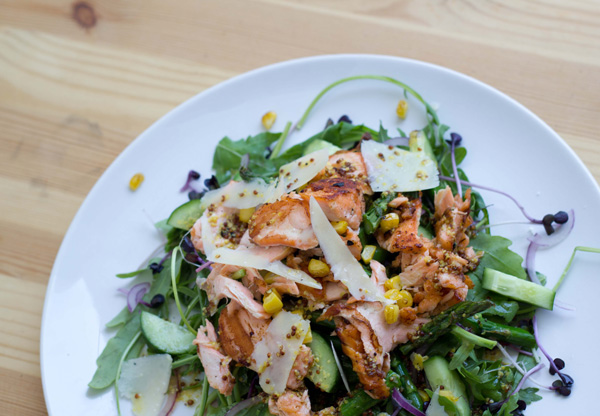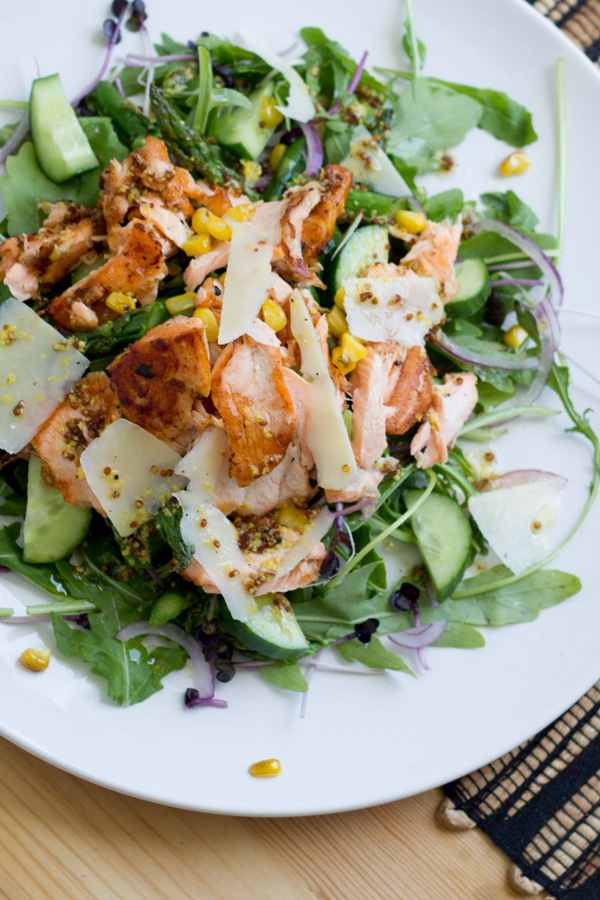 This dish is also an homage to Fresh Corn Grill,one of my favorite eateries in Los Angeles. I always order their eponymous salad with salmon on top. As someone who truly hates dieting, it really is one of those salads that actually fills you up, tastes great and makes you want to come back for more. Although the fact that they also serve mouth-watering pastas doesn't make the mental struggle easier every time I wait in line to order!
If you've ever had the Fresh Corn Grill salad, this homemade grilled salmon asparagus salad comes pretty close.
Grilled Salmon Asparagus Salad
Ingredients
2 salmon fillets
1 cup arugula
¼ a cup radish sprouts
½ a small red onion
1 cucumber
1 ear of corn
4-5 asparagus spears
1 lemon
3 cloves garlic
3 tablespoons olive oil
grated parmesan for garnish
1 tablespoon dijon mustard
½ tablespoon honey
2 tablespoons vinegar
Instructions
Start by setting your grill to high and brushing it with a little olive oil and preheating your oven to 375 degrees F.
Place the corn on the grill and rotate every 4-5 minutes.
Get to chopping your garlic cloves finely, squeeze 1 lemon's juice and drizzle 1 tablespoon olive oil over your salmon fillet.
Add ½ the garlic and lemon juice to the salmon and place in aluminum foil, cover with marinade, and seal.
Place sealed salmon in a glass dish, and bake for 20 minutes.
With 5-10 minutes before the salmon is ready, grill the asparagus halfway so that there's still some crunch to them (about 3-4 minutes)
Add the remaining garlic to the asparagus and grill for 1 more minute.
Chop cucumbers, thinly slice red onions and set aside.
Chop the asparagus at an angle and take the grilled corn off the cob.
Assemble the salad starting with the arugula, radish sprouts, red onions, cucumbers, asparagus and grilled corn.
When salmon is done in the oven place it on the grill for 30 seconds and then transfer in pieces to the salad.
Top the whole thing off with a shaving of parmesan (because everything needs a good shaving of parmesan).
For the dressing, combine dijon mustard, honey, the other half of the lemon juice, olive oil and plain white vinegar. A quick drizzle and you're ready to dig in.