Now that I'm trying to get back on the healthy track, I came up with this grilled chicken sandwich recipe that's healthy and will keep my pregnant tummy full and satisfied. I need the carbs from the baguette to keep me going through the day! Post-baby, I'll switch to a big asian slaw salad with grilled chicken minus the baguette.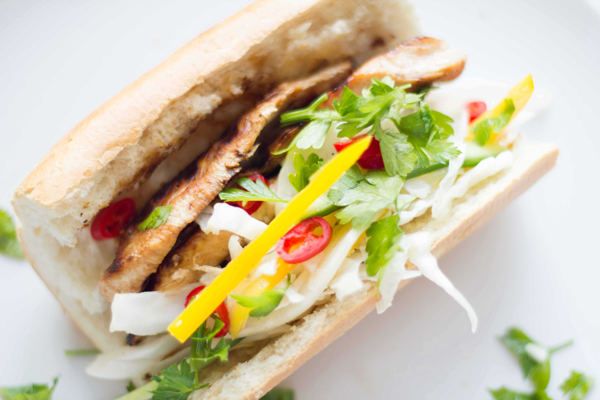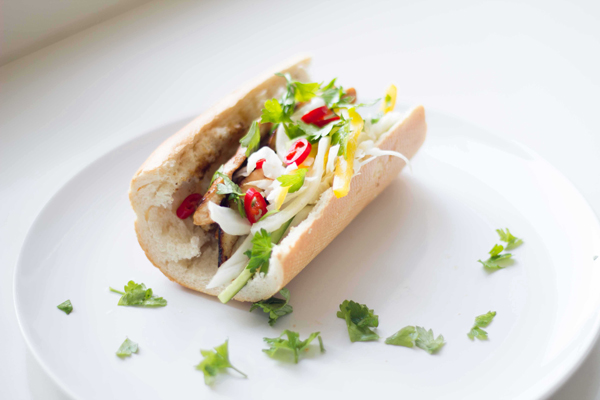 This grilled chicken sandwich is perfect for a healthy dinner or lunch. You get your protein with the chicken, veggies in the vinegar-y asian style slaw and your carbs from the crispy baguette. The combination of the sweet sour slaw with juicy chicken tucked inside a warm baguette is amazing. Oh and don't forget the sliced red chilis on top. Spicy food is great for boosting your metabolism and adding that extra kick of flavor.

Grilled Chicken Sandwich with Asian Slaw
This grilled chicken sandwich recipe features a tangy asian style slaw served in a fresh baguette
Ingredients
2 slices of chicken breast
1 baguette
1 cup cabbage, thinly sliced
¼ cup fennel, thinly sliced
2 cucumbers, thinly sliced
1 yellow bell pepper, thinly sliced
1 tablespoon sesame oil
⅓ cup rice vinegar
½ cup soy sauce
2 tablespoons honey
½ cup brown sugar
1 red chili, thinly sliced
parsley or cilantro, roughly chopped for garnish
1 tablespoon sunflower seed oil
Instructions
Marinate the chicken breasts in ⅓ cup soy sauce, 1½ tablespoons of honey, ½ tablespoon sesame oil, brown sugar, and salt and pepper for at least 1 hour.
Combine the thinly sliced cabbage, fennel, cucumbers and bell pepper in a bowl and dress with the remaining soy sauce, rice vinegar, honey, and sesame oil.
Heat a grill pan on high heat and add 1 tablespoon sunflower seed oil. Once hot, add the marinated chicken breasts. Cook for 1-2 minutes on each side without moving so that they'll get those beautiful grill marks. Once cooked through, remove the chicken breasts from the pan.
Slice a baguette to the size of your choice and toast in the oven for 1-2 minutes. Assemble the sandwiches by adding your chicken breast, cabbage slaw and garnishing with red chilis and parsley. You can also add some Sriracha for an added kick!