These pan-fried eggplants with pomegranate tahini and crispy onions make for the perfect addition to any Rosh Hashanah dinner.
For those that are not familiar, Rosh Hashanah is the Jewish new year, and it is celebrated with a big family dinner filled with foods to symbolize a great rest of the year:
Pomegranates for abundance (because of all their seeds).
Apples dipped in honey for a sweet new year.
A fish head, or in the Persian Jewish tradition, cow's tongue (head meat) to symbolize being the head or "the leader" and not the tail.

this one probably sounds gross, but after years of avoiding the cow's tongue, I finally caved in and realized that it's actually delicious! Super soft meat that melts in your mouth =P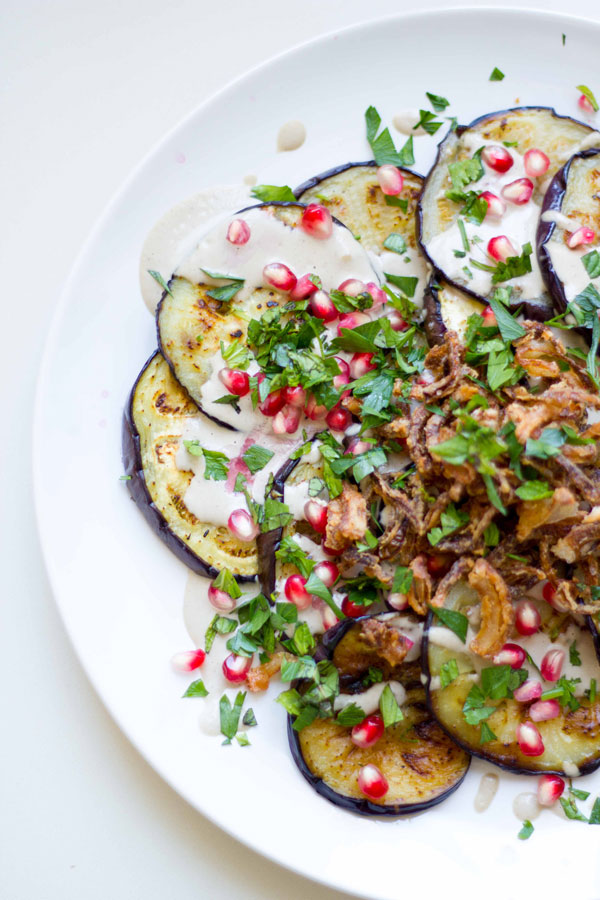 The concept for this dish was inspired by one you can find on almost any Israeli table– Fire roasted eggplant drizzled with tahini.
To take it up a notch and make it fit with the Rosh Hashanah theme, I added pomegranate juice to the tahini, pomegranate seeds on top for pops of sweetness, and crispy fried onions for texture (and, because they make everything better!).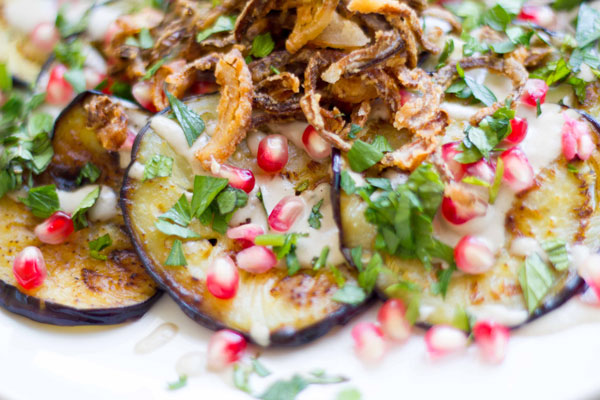 The recipe for this eggplant with pomegranate tahini is actually really simple and easy to make. You just need to juggle frying the eggplant and crisping up the onions, while throwing the tahini ingredients into a blender. Sprinkle some chopped parsley and mint over the top and you've got yourself a Rosh Hashanah appetizer that's sure to wow all your guests.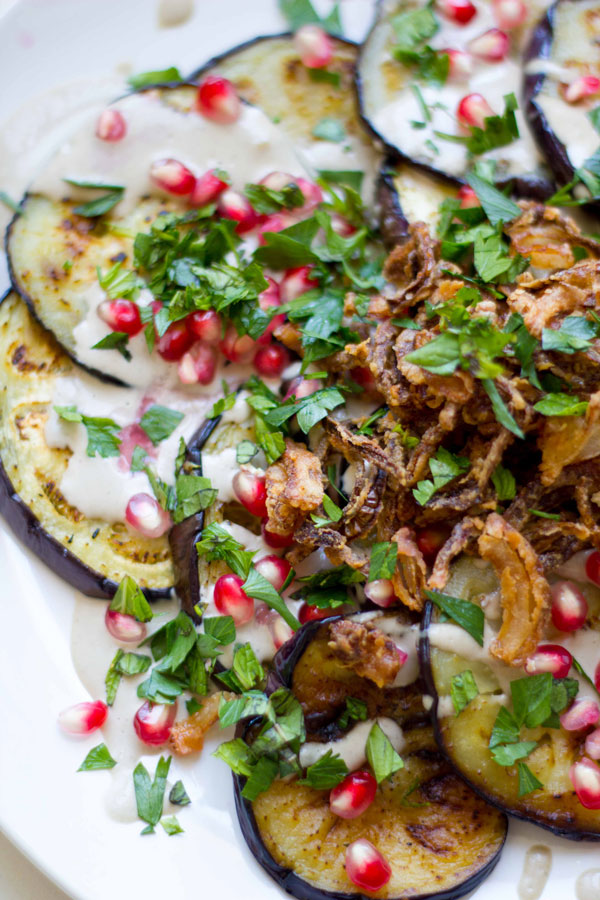 Eggplant with Pomegranate Tahini and Crispy Fried Onions
Ingredients
Eggplant:
1 eggplant
2 tablespoons sunflower seed oil (or canola)
1 pomegranate
1 tablespoon finely chopped parsley
1 tablespoon finely chopped mint
½ a white onion
1 tablespoon white flour
Pomegranate Tahini:
1 cup tahini sesame seed paste
¾ cup lukewarm water
1 ice cube
2 cloves raw garlic
¼ cup fresh lemon juice
¼ tsp salt
1 tablespoon freshly squeezed pomegranate juice
Instructions
Eggplant
Cut the eggplant into ¼ inch disks and sprinkle with salt. (This will draw the liquid out of the eggplant)
Once the liquid has been drawn out, pat the eggplant disks dry with a paper towel.
Preheat a frying pan with sunflower seed oil on high.
Once the pan is very hot, place your eggplant disks inside and fry for 2-3 minutes on each side (until golden brown).
Remove the fried eggplants from the pan and arrange them on a plate.
Thinly slice the onion into rings.
Coat the onion pieces with flour in a small bowl.
Throw the flour coated onions into a small pot filled an inch high with hot oil.
Fry the onions until golden brown (2-3 minutes)
Remove the fried onions and set aside.
Drizzle the pomegranate tahini over the eggplant slices, then top with the crispy fried onions, chopped mint and parsley, and pomegranate seeds.
(To extract the pomegranate seeds, cut the pomegranate in half and smack the back of each half with a wooden spoon until the seeds fall out).
Pomegranate Tahini
Throw all the ingredients into a blender or food processor.
Blend until smooth.
If the consistency is too thick, add more water. If the consistency is too thin, add more tahini paste.
SaveSave