I can't even put into words how happy I am that I found a DIY In-n-Out animal style fries recipe. Growing up in Los Angeles, this was a staple of my junk food diet and since there's no In n' Out in Tel Aviv my craving level has hit an all time high.
Trust me, if you follow this step by step recipe you won't even be able to tell the difference! These were SO GOOD!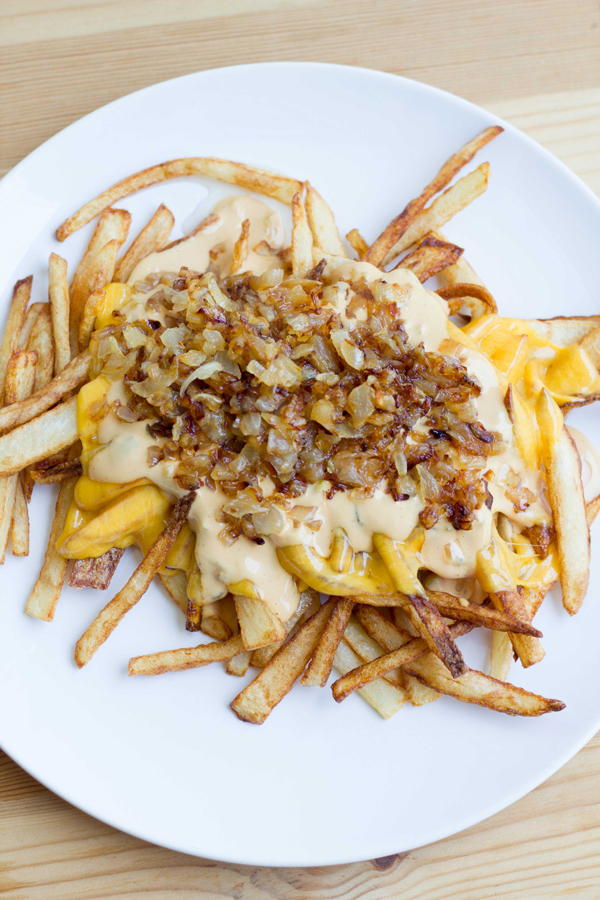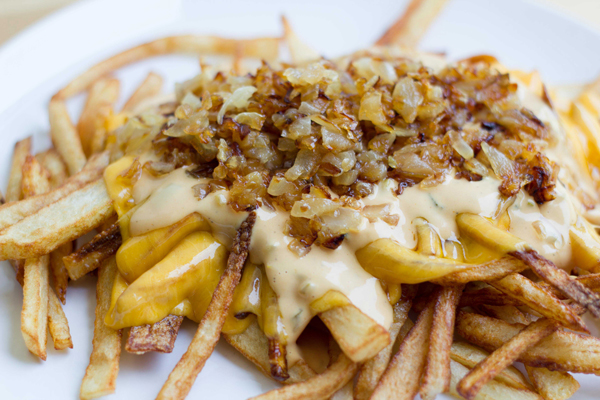 I think the magic of these DIY In-n-Out animal style fries is in the secret sauce. I'm drooling just looking at these pictures. Oh and I don't know why anyone would want to do this, but if you happen to want to make this a little bit  healthier, you're welcome to bake the fries in the oven. Although my motto is if you're gonna cheat do it right!
DIY In n' Out Animal Style Fries
This DIY In-n-Out animal style fries recipe is so good you won't be able to tell the difference! For those of us who can't drive to our local chain, make these at home!
Ingredients
2 medium potatoes
1 yellow onion
3-4 slices of American cheese
¼ cup mayonnaise
2 tablespoons ketchup
2 tablespoons sweet pickle relish
2 teaspoons white vinegar
1-2 cups canola oil for deep frying
Instructions
Peel and cut the potatoes into french fries and sandwich them between two layers of paper towels. Press down on the paper towels to dry any excess moisture from the potatoes, this will stop the oil from splatting everywhere.
Heat 1-2 cups of canola oil in a small pot on medium-high heat. You'll know the oil is ready when you insert the back of a wooden spoon and the oil bubbles up.
Fry the potatoes in batches so you don't lower the heat of the oil too much each time. I did about 4-5 batches. Once you slide the potatoes in wait 5 minutes until just starting to get crispy but not all the way. Remove each batch and place on some more paper towels to absorb the excess oil.
Refry your french fries a second time for about 20 seconds, this is what makes them stay crispy and not get soggy!
Dice the onion and fry it in 2 tablespoons canola oil heated to medium-high heat in a separate sauté pan. Let the onion cook until it starts to brown and crisp up, about 5-7 minutes.
Make the secret sauce by combining the mayo, ketchup, sweet pickle relish, vinegar, salt and pepper to taste.
Lay out the french fries on a baking sheet and cover with the slices of american cheese. Place in an oven preheated to 400 degrees F for about 2 minutes until the cheese is melted through.
Remove the cheesy fries and plate them, topping with the secret sauce and sautéed onions. Enjoy!