Well, Summer is basically over and I may be jumping a bit ahead here, but I had the urge to make my mom's cilantro lime zucchini soup today. It's the perfect fall recipe. Not to mention, the perfect thing to make when you're feeling under the weather from getting sick between seasons. So comforting, so delicious, and so so easy to make!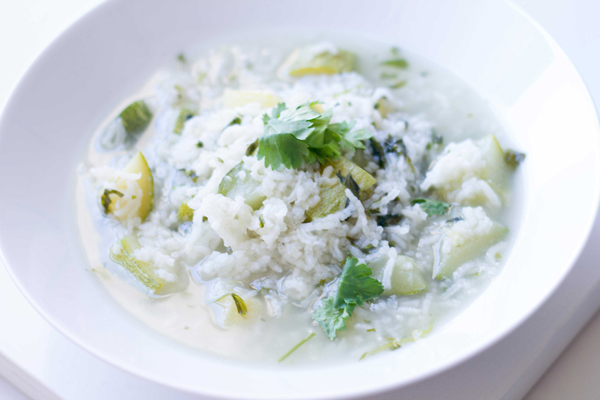 With only 3 basic ingredients, making this hearty delicious cilantro lime zucchini soup literally doesn't get easier than this. All you need is rice, cilantro, and zucchini. I add a squeeze of lime juice at the end to sour things up a bit. Every time I'd get sick as a kid, my mom would have a bowl of this ready for me and every time it would be just what I needed. So if you're looking for that comforting, easy-to-make, bowl of soup, look no further!

Cilantro Lime Zucchini Soup
This cilantro lime zucchini soup uses only 3 ingredients and is super easy to make! Perfect for sick days when you need a comforting hot soup.
Ingredients
1 cup rice (I use basmati)
6-7 cups water
2 medium zucchinis, chopped coarsely
2 bunches of cilantro, chopped
salt and pepper to taste
1 lime
Instructions
Add the rice and water to a large pot on high heat. Salt generously and let the water come to a boil. Once boiling, lower the heat to low and let simmer for 5-7 minutes until the rice is almost cooked through but not quite yet.
Add in the chopped zucchini and cilantro to the pot. Let simmer for an additional 20-25 minutes until the zucchini becomes fork tender.
Pour your soup into a bowl and squeeze some fresh lime juice over the top. Enjoy!