Teaching myself to cook was a long and gradual process full of trial and error. One of my proudest moments in the kitchen was when I finally "graduated" to making Asian style food, because I had always been intimidated  by Asian flavors before that. I remember when I first discovered sesame oil and had that Aha! moment like "Wow, that's how they get it to taste like that!" It's such a distinct flavor and makes this salad dressing so good. Right after my sesame oil discovery I attempted to make a Chinese chicken salad and since then have perfected the recipe to what you see here today.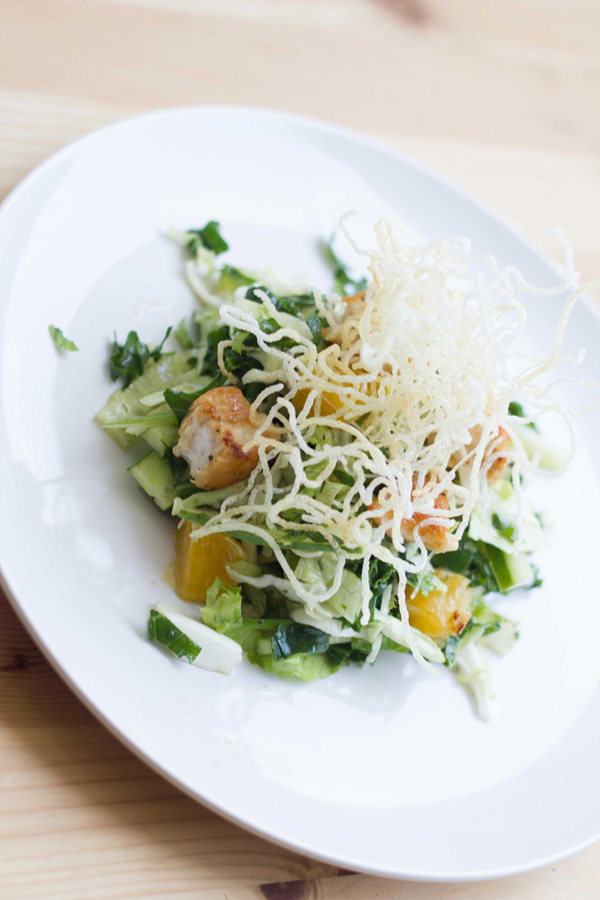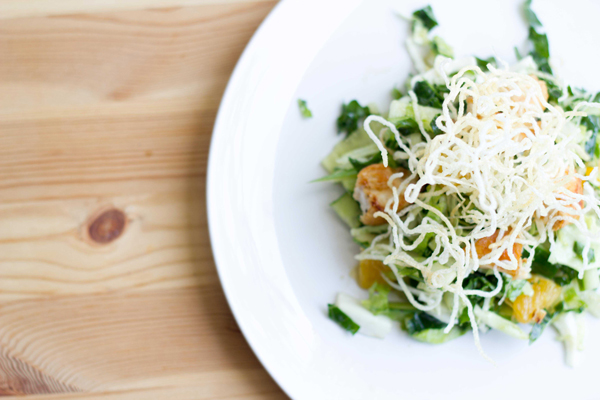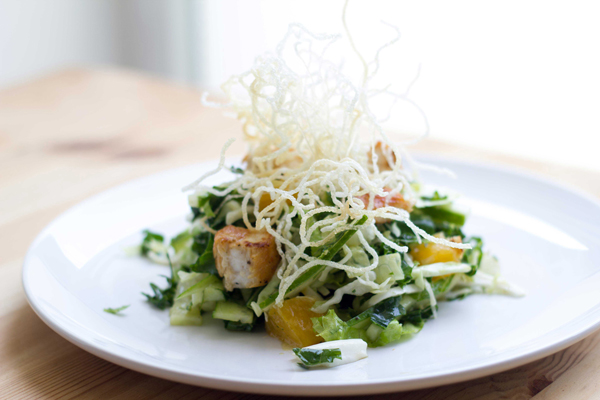 This Chinese chicken salad is the perfect combination of flavors and textures. Soft mandarin orange slices, juicy chicken breast, tender greens like kale, lettuce and cabbage, and crispy fried rice noodles on top for that perfect crunch make this dish really pop in your mouth. The sesame ginger vinaigrette is also the perfect way to tie everything together.
Chinese Chicken Salad
Ingredients
2 boneless skinless chicken breasts
½ cup chopped kale
½ cup chopped romain lettuce
½ cup chopped white cabbage
½ a mandarin orange, sliced
1 cucumber, chopped
⅓ cup of rice noodles
1 teaspoon minced ginger
1 teaspoon honey
1 tablespoon rice wine vinegar
1 tablespoon olive oil
½ teaspoon soy sauce
Instructions
Make sure to cut the rice noodles into small pieces so they're not stuck together.
Flash fry the noodles in shallow very hot canola oil in a small frying pan.
Once they puff up remove immediately and set aside to avoid burning.
Slice the chicken breast into bite size pieces and pan fry for 2-3 minutes on each side. Remove and set aside.
For the dressing, combine honey, ginger, vinegar, olive oil and soy sauce and stir to thoroughly incorporate. Set aside.
Add kale, romaine, cabbage, orange slices, cucumber and chicken to a salad bowl, dress with the sesame ginger vinaigrette and stir to coat evenly.
Serve the salad with the crispy rice noodles on top and enjoy!