This chimichurri minute steak recipe is my version of the perfect dish for a date night. Oren has a healthy obsession with eggplants and I'm slowly learning to love them. As a kid I was an extremely picky eater and eggplants were one of those foods on my blacklist so the fact that I incorporate them into my recipes today is a personal milestone.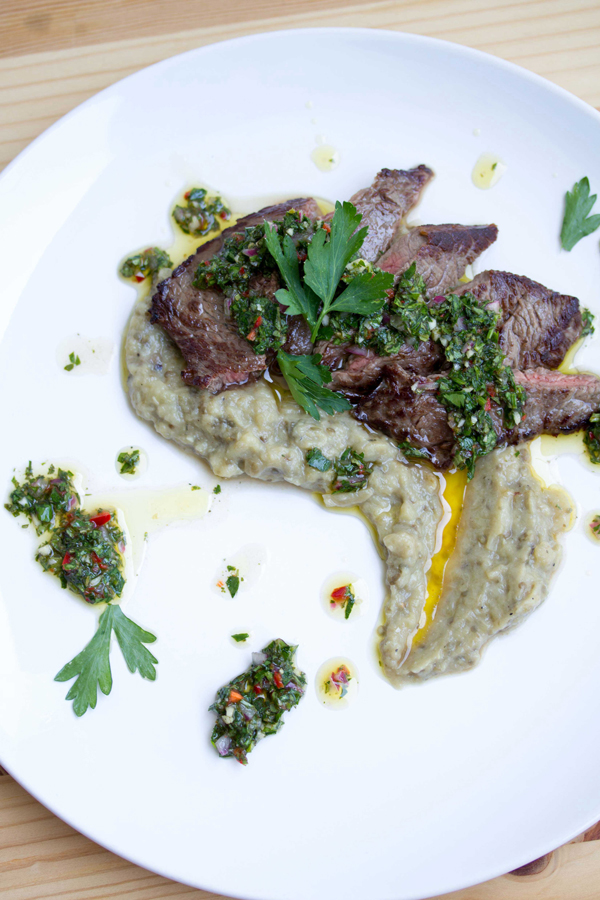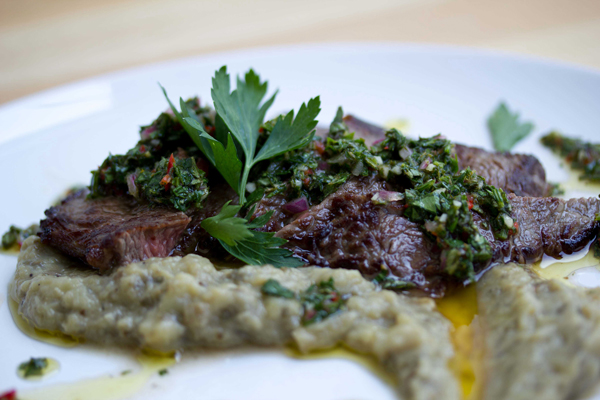 The eggplant is also a huge component of Israeli cuisine, used in almost every dish so it's about time I started enjoying them. But I couldn't make a date night recipe that would only please my husband, so the chimichurri is my way of compromising and adding a spicy tangy element catered specifically to my tastebuds. Taking a bite of the creamy eggplant, seared minute steak and spicy chimichurri all together is beyond amazing. If you want to make this chimichurri minute steak dish even better, I suggest frying up some thinly sliced onions until their perfectly crispy and adding to the top for some texture (an afterthought I wish I had have thought of sooner!)

Chimichurri Minute Steak with Eggplant Puree
Ingredients
2 eggplants
3 cloves garlic
2 sprigs thyme
¼ red onion
½ cup parsley
¼ cup oregano
3 tablespoons olive oil
1 lemon
1 tablespoon red wine vinegar
1 tablespoon tahini
500 grams minute steak
½ a red chili
½ cup onions (optional)
Instructions
Preheat the oven to 400 degrees F and place the eggplants, 2 garlic cloves inside. (note: make sure to poke holes in the eggplant before placing in the oven. I learned the hard way that an eggplant without holes poked in it will explode, fly your oven door open and burn you.)
After 10 minutes remove the garlic cloves.
After 25-30 minutes remove your eggplants from the oven.
Add roasted garlic, eggplant, thyme, ½ the lemon juice, tahini, salt and pepper to a blender and blend until smooth. Set aside.
For the chimichurri, add oregano, parsley, 1 garlic clove, red onion, red chili, other half of lemon juice, red wine vinegar, olive oil, salt and pepper in a food processor and combine until uniform. Set aside.
Sear the minute steak with a little oil on high heat for 1 minute on each side seasoning with salt and pepper.
To assemble, place the eggplant puree on the bottom, minute steak on top and drizzle chimichurri over the whole thing. Enjoy!