What's better than a serving of piping hot cheesy lasagna straight outta the oven?
This recipe is a classic cheesy lasagna recipe with a hint of spice. I like my lasagna meatless, but if you like  you can always add ground meat to the sauce. To kick the classic recipe up a notch I added a considerable amount of minced jalapeño to the sauce.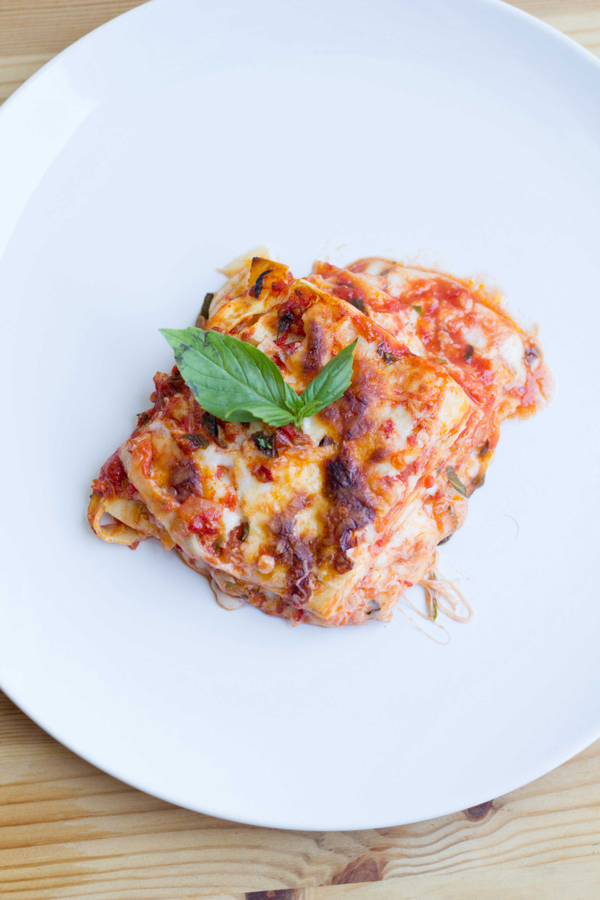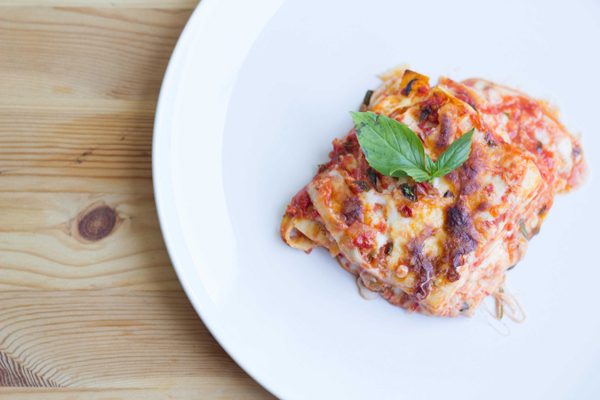 I also kept things simple when it comes to the cheese, leaving out fancy ricotta. This cheesy lasagna recipe is just pasta, spicy tomato sauce, and mozzarella. Just the way I like it. Less complicated and just as delicious! Also it doesn't take any time at all to make. The bulk of the work is making the sauce. After that you assemble and leave it to the oven to work its magic.

Cheesy Lasagna With a Spicy Kick
This cheesy lasagna recipe adds a little jalapeño to the tomato sauce to give it a spicy kick! The layers of pasta, spicy tomato sauce and mozzarella cheese are delicious.
Ingredients
600 grams shredded mozzarella
Barilla lasagna sheets
6-7 large tomatoes
1 yellow onion
2 cloves garlic
1 inch minced jalapeno (optional)
⅓ cup of chopped basil
2 tablespoons olive oil
Instructions
Preheat the oven to 400 degrees F. Heat the olive oil in a large pot on medium-high heat. Dice the onion and add to the oil. Mince the garlic and jalapeño and add to the pot. Lower the heat to medium and let cook for about 3-5 minutes until onion is soft and translucent.
Slice the tomatoes into quarters and add into the food processor. Pulse until you've got tomato juice. Add the tomato sauce to the pot and raise the heat to high.
Add the chopped basil to the pot along with salt and pepper to taste. Stir until incorporated. Let the sauce simmer on medium-low for 10-15 minutes.
Assemble the lasagna by add a ladle of tomato sauce to the bottom of a pyrex pan. Over that lay 2-3 sheets of lasagna pasta. Over that sprinkle mozzarella cheese. Repeat by layering the lasagna sheets, tomato sauce, and mozzarella until you've filled the pan to the top.
Insert the lasagna into the oven and bake for 20-30 minutes until all the cheese has melted and the lasagna sheets have been cooked through. Top with extra basil or grated parmesan and enjoy!