Why not bring the cafe home with this simple summer caprese panini and refreshing iced latte?
Today I was craving a light yet satisfying lunch, but didn't have enough energy to get myself out of the house. The 90 degree humid hot weather didn't help either. So I was left to figure out how to satisfy my craving from home in the comfort of my air conditioner. Honestly, it was way easier than I expected. You probably already have all the ingredients for this caprese panini on hand and making it at home almost always tastes better then ordering it out.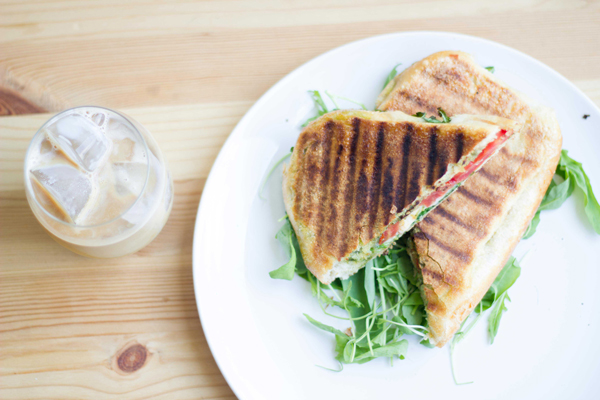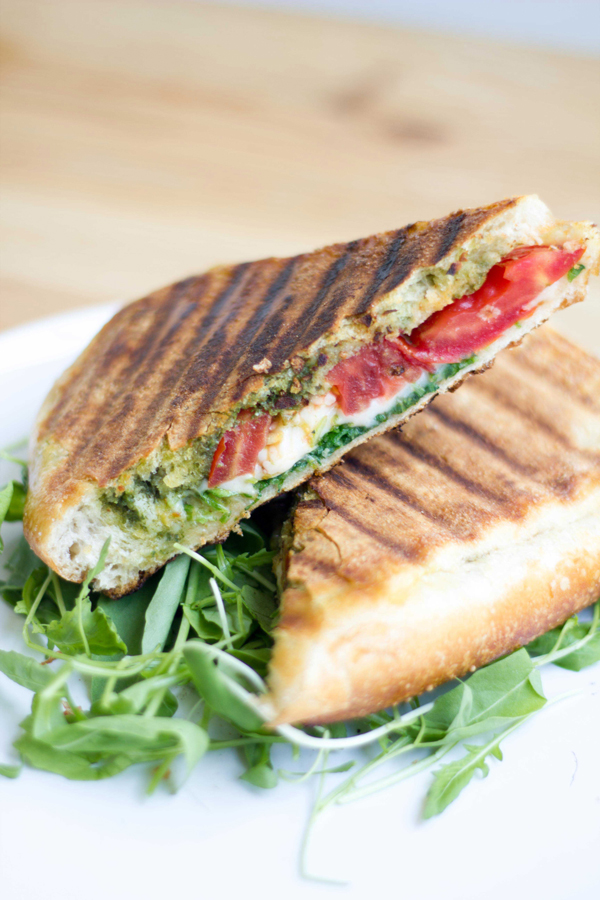 If you have a Nespresso machine like we do, the iced late part is a breeze as well. I just popped in a capsule, pressed the button for a single shot espresso, added ice and a splash of milk. Voila! If not, you can also do the same exact thing but use instant coffee instead of the Nespresso capsule. One teaspoon instant coffee, two teaspoons hot water, stir to melt, then add the ice and milk.

Summer Caprese Panini with Iced Latte
This caprese panini recipe makes for a light and satisfying lunch similar to one you could get at any cafe. Making your own pesto, and using fresh tomatoes and mozzarella at home almost always tastes better though!
Ingredients
Panini
⅔ cup shredded mozzarella cheese
2 ciabatta bread rolls
1 tomato, sliced
½ a cup of arugula (spinach works well too)
1 cup basil
1 clove garlic
¼ cup pine nuts
⅓ cup extra-virgin olive oil
Kosher salt and freshly ground black pepper, to taste
¼ cup freshly grated parmesan cheese
Iced Latte
1 Nespresso capsule of your choice
1 teaspoon sugar (optional)
4-5 ice cubes
⅓ cup of milk
Instructions
Panini
Make the pesto by adding the basil, garlic, pine nuts, parmesan, salt and pepper to a food processor and pulse while slowly pouring in the olive oil until a paste is formed.
Heat a non-stick grill pan on high heat and add 1 tablespoon olive oil.
Slice the ciabatta bread in half and spread the pesto on both sides. Then layer on tomato slices, mozzarella cheese, and arugula.
Place the sandwich on the grill pan and weigh it down with another pan filled with something heavy (I used lemons). Let cook for 1-2 minutes on each side until grill marks have formed and mozzarella is melted, then remove from heat.
Iced Latte
Pop the Nespresso capsule in the machine and press the button for a single shot espresso. (If you like sugar, this is the time to add it)
Add ice cubes to your glass of espresso, then a splash of milk. Stir and enjoy!