IT'S TACO TUESDAY and on today's menu we have blackened salmon tacos, topped with labaneh cilantro "crema", sliced jalapeños and red onions.
It's not always easy finding Mexican ingredients here in Israel so I substituted crema for the more readily available labaneh cheese and the result was surprisingly amazing.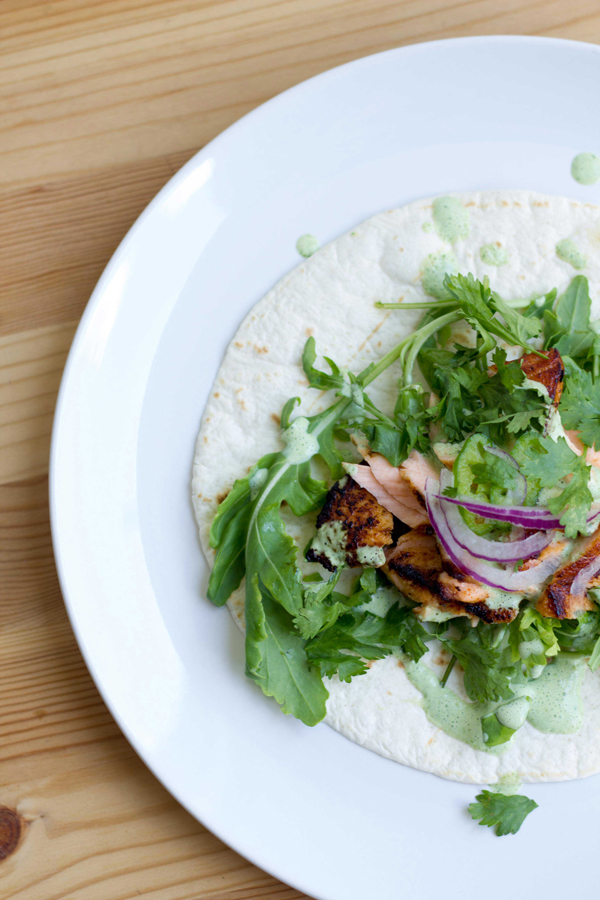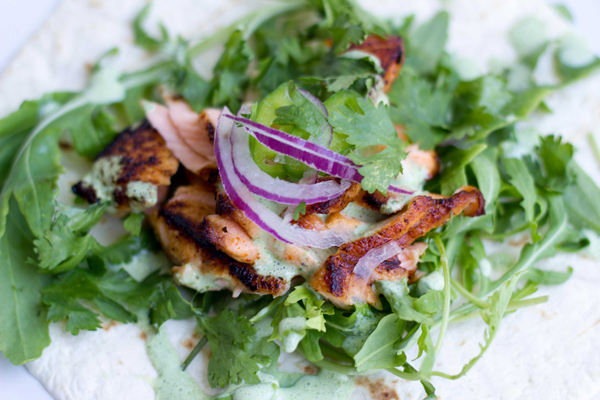 This meal is light, full of flavor, and extremely easy to make. Unfortunately avocados are hard to come by this time of year or else they definitely would have made it into the dish as well. But I'm not too bummed out about that because the flavors of the salmon, labaneh, peppery arugula, cilantro and jalapeño made for an explosive bite.

Blackened Salmon Tacos with Labaneh Cilantro Crema
Ingredients
3 Salmon Fillets
3-5 tortillas
1 cup arugula
¼ cup cilantro
½ cup labaneh cheese
1 jalapeno
1 garlic clove
2 limes, juiced
1 teaspoon spicy paprika
1 teaspoon oregano
1 teaspoon red pepper flakes
1 teaspoon cumin
1 teaspoon chipotle powder
1 teaspoon granulated garlic
1 teaspoon sugar
¼ teaspoon thyme
¼ teaspoon onion powder
3 tablespoons olive oil
½ red onion, sliced thinly
Instructions
For the crema add labaneh cheese, garlic, cilantro, ⅓ jalapeño, 1 lime juiced & zested, salt and pepper to a food processor and blend until smooth. Set aside
For the salmon, combine the spicy paprika, oregano, red pepper flakes, cumin, chipotle powder, garlic, sugar, thyme, onion powder, ½ teaspoon salt, and ¼ teaspoon black pepper in a small bowl.
Pat the salmon filets dry with a paper towel and generously sprinkle the flesh of the salmon with the blackened seasoning, 1 lime juiced and ½ the oil. (You can let it marinate like this overnight in the fridge too).
Heat a large cast iron skillet over medium high heat.
Drizzle ½ the oil into the pan and place the salmon filets flesh side down into the skillet. Cook about 2-5 minutes total, turning half way through.
The salmon is done when the thickest part feels firm. Once cooked remove the skin and flake off with a fork.
To assemble the tacos, toast your tortillas and place arugula, salmon, labaneh crema sauce, jalapeños and sliced onions on top.
Get into taco eating position and enjoy!