Okay, this recipe is far from an authentic enchilada recipe, but it's still delicious and totally hit the spot on this hot summer day. Traditionally, enchiladas are made with  a sauce from chicken broth, chili powder and different spices, and topped with melting cheese. I decided to go a different route, making the sauce for these black bean enchiladas from roasted tomatoes, chilis and garlic, skipping the cheese entirely and topping it with fresh guacamole instead.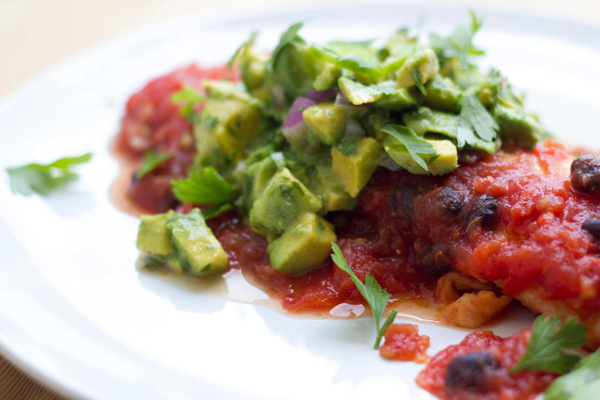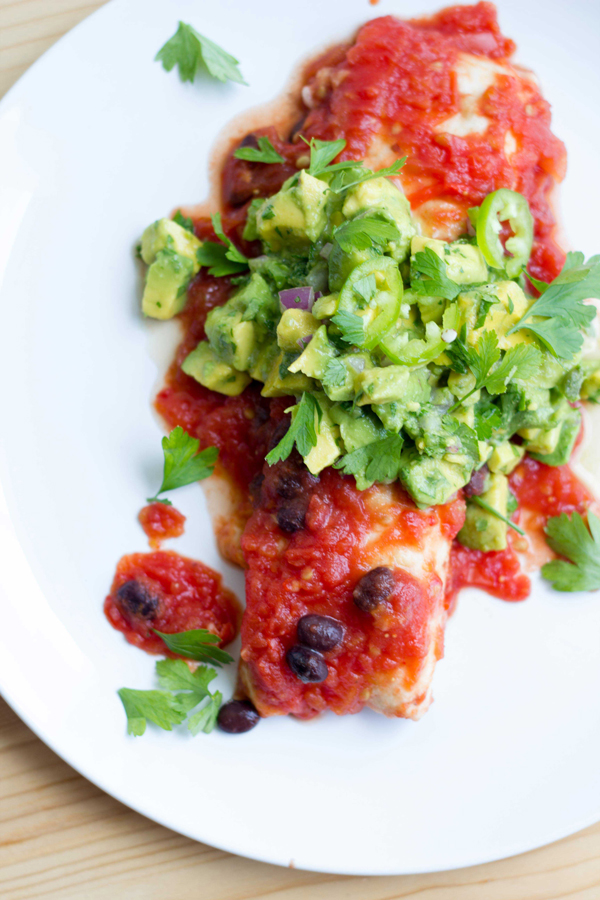 Seriously, this black bean enchilada recipe is finger licking good and also vegetarian friendly, vegan friendly, and most importantly waist friendly!

Black Bean Enchiladas with Spicy Roasted Tomato Sauce
Ingredients
4-5 medium tomatoes
1 red chili pepper
2 cloves garlic
1 can black beans
2 avocados
½ a red onion, chopped
¼ cup chopped parsley or cilantro (I prefer parsley, but cilantro fits better with the recipe)
1 lime
½ jalapeno, minced
1 teaspoon crushed red pepper flakes
4-5 flour tortillas
Instructions
Preheat the oven to 375 degrees F.
Pour the can of black beans in a small sauce pan and bring to a boil with salt, pepper and crushed red pepper flakes.
Once boiling, lower the heat and simmer for 5 minutes.
For the sauce, roast the tomatoes, chili pepper and garlic in the oven.
Remove the garlic and chili pepper after 5-7 minutes and the tomatoes after 15-20 minutes when fully roasted.
Place everything in a medium sized pot and pulse together with a hand blender, or mash everything together with a fork.
Add salt and pepper to taste and let simmer on medium heat for 5 minutes.
To assemble the enchiladas place black beans inside the flour tortillas and roll up one by one placing them side by side in a baking dish.
Pour the tomato sauce over all the stuffed tortillas and bake in the oven at 375 degrees F for 10 minutes.
For the guacamole, combine avocados, red onion, jalapeño, and parsley in a bowl and dress with salt, pepper, and the juice of 1 lime.
Plate the bubbling hot enchiladas with a dollop of guac and enjoy!