Today I had a leftover steak staring at me from the fridge and only 30 minutes to make lunch. When I'm looking for a quick and easy meal packed with flavor, I always go the asian stir fry route. Less than 5 ingredients and some pantry staples later I had this steaming hot beef and broccoli bowl with ginger sesame stir fried  kale on fluffy basmati rice.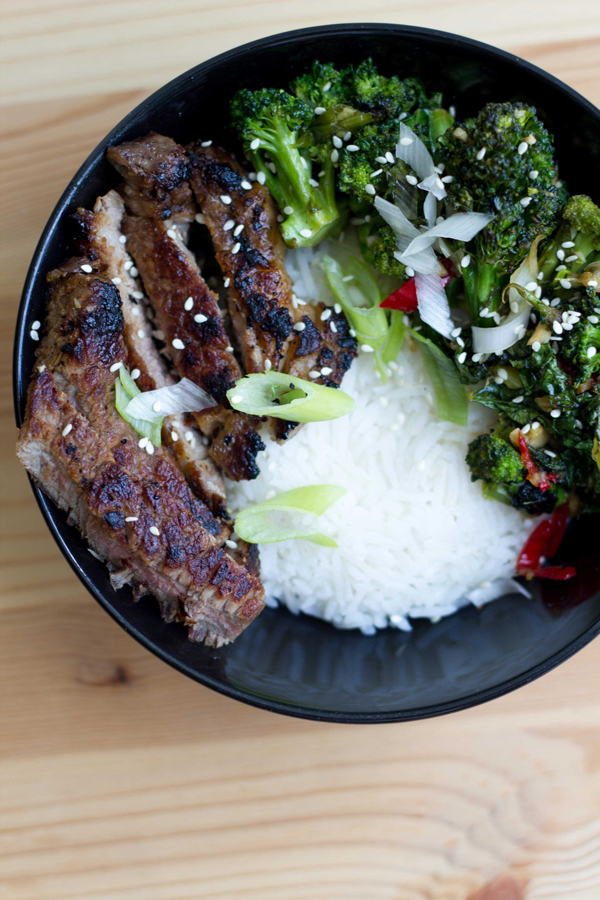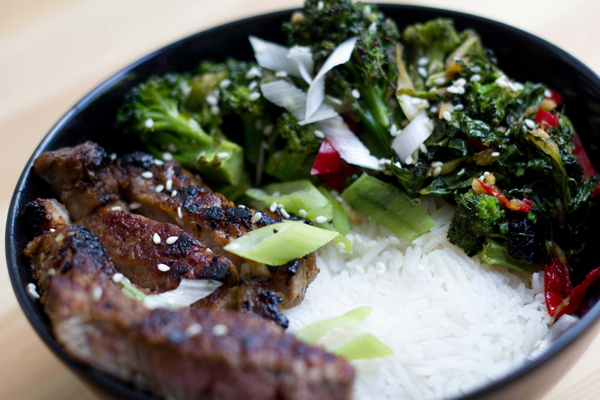 This dish really proves that it doesn't take a lot of time and effort to make a healthy and filling meal that tastes amazing. Who doesn't love a good beef and broccoli bowl anyway?
I've always loved Asian cuisine for its ability to make contrasting flavors come together perfectly. Almost every dish has some combination of salty, sweet, spicy, and sour and they are all balanced to perfection. Most people eat a dish like this beef and broccoli bowl out at restaurants and think making it at home would be so complicated but it's really not! A good quality wok, some Asian sauce staples, protein and veggies and you've got yourself an impressive meal with very little effort. Trust me when I say make this dish at home! Your tastebuds will thank you later.
Beef and Broccoli Bowl with Stir Fried Kale
Ingredients
2 sirloin steaks
1 cup broccoli
1 cup chopped kale
½ tablespoon minced ginger
½ tablespoon minced garlic
½ tablespoon chopped red chili
sliced scallion for garnish
1 tablespoon soy sauce
3 tablespoons brown sugar
1 teaspoon rice wine vinegar
1 teaspoon sesame oil
1 teaspoon honey
Instructions
To make the rice, add ½ cup of rice and 1 cup of water to a pot on high heat cover and let come to a boil.
Once boiling, lower the heat to the lowest setting and let simmer for 15-20 minutes until ready.
Heat a wok to medium high heat and add broccoli and kale.
Stir fry for 1-2 minutes and then add the ginger, garlic, and red chili.
After 2 minutes, season with salt and pepper and add soy sauce, brown sugar, rice wine vinegar, sesame oil and honey.
Stir for another minute and set aside.
Heat the wok to high heat and add 1 tablespoon olive oil.
Once hot, add the steak and sear for 2-3 minutes on each side.
Add rice to the bowl, broccoli kale stir fry and steak. Garnish with scallions and sesame seeds and enjoy!