Arayes is a traditional Middle Eastern recipe for spiced ground beef stuffed into a pita and pan-fried or grilled to crispiness on all sides.
On this cold stormy weekend, my husband and I braved the rain and made our way to the supermarket on a mission to buy ingredients to make Arayes.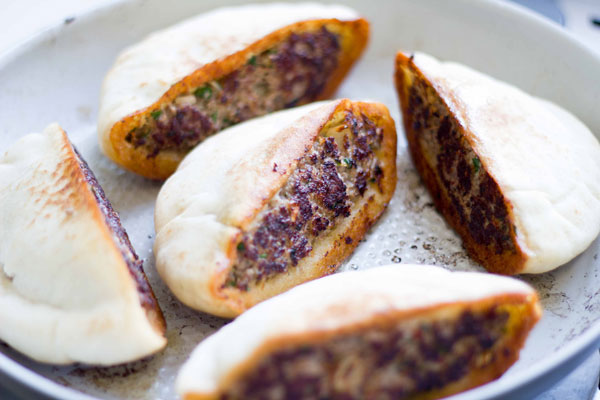 This was my first time making Arayes, but I can say this was one of the best things I have ever made. And, I don't say that lightly.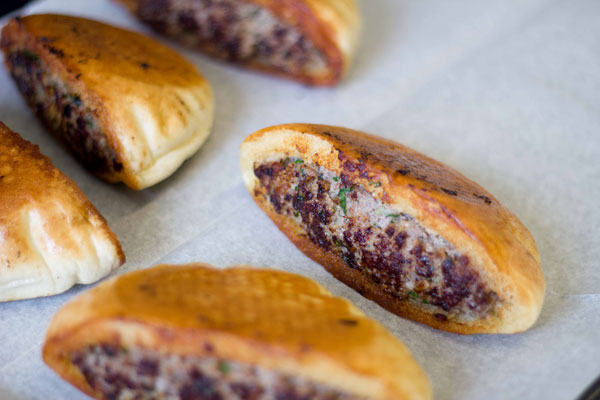 The crunchy pita bread with melted fat soaked into it was stuffed with perfectly spiced juicy beef and topped with a fresh acidic tomato salad, dripping with silky tahini sauce. Wow. Just wow.
You guys have to try this!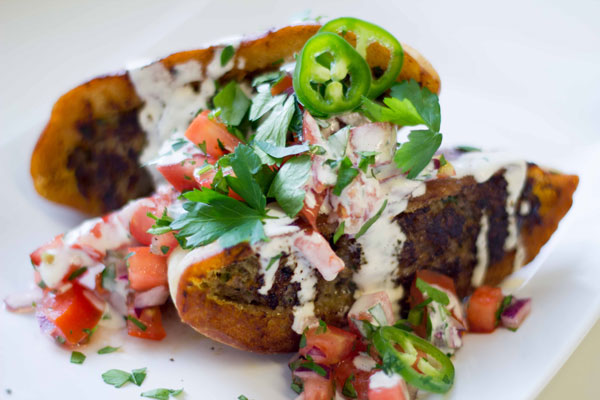 And honestly, Arayes is not hard to make. There are a few separate components going on but each one is very simple to make and when they finally come together in the end, the flavor is so perfect.
You start with seasoning the beef mixture. Make sure to use ground beef with plenty of fat because that eventually seeps in and adds extra flavor to the pita bread. To the fatty ground beef, I added garlic, onion, parsley, jalapeno, a pinch of cinnamon (game changer!), cumin, salt and pepper.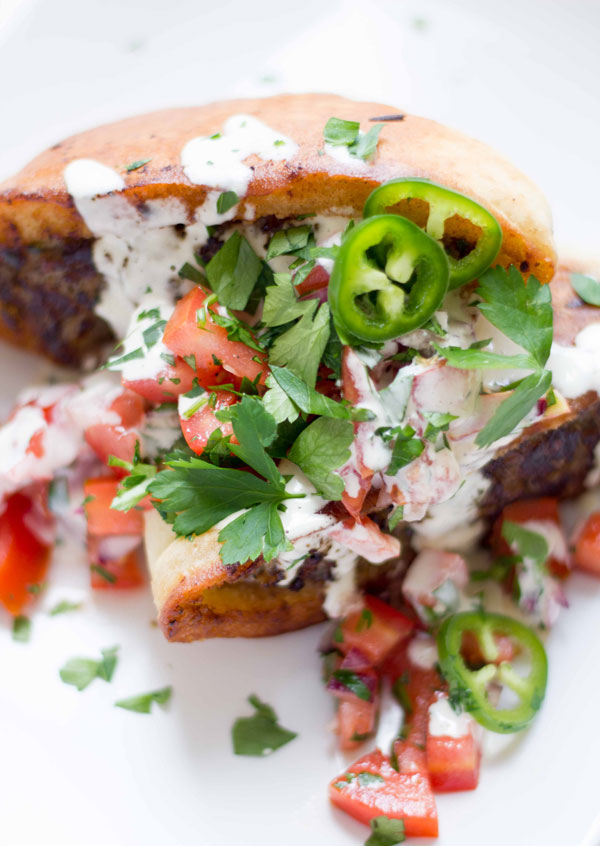 While the beef mixture marinates, I made the tahini and tomato salad and set aside.
By this time, I began stuffing the pita bread (best to use freshly baked pitas) with the beef. In a hot pan, I placed the stuffed pitas beef side down to get a nice sear, then flipped on both sides to crisp up the other ends of the pita.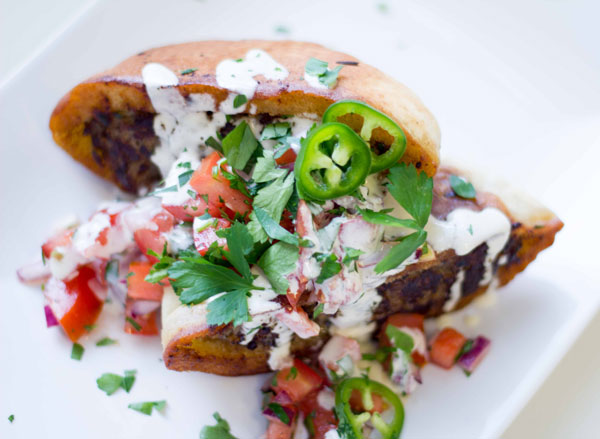 Lastly, I added the crisped up stuffed pitas into the oven for 10-15 minutes so that the inside of the ground beef finished cooking.
The smell in the house was intoxicating!
When it was time to take the Arayes out of the oven, I topped them with fresh tomato salad and a drizzle of tangy tahini! Heaven.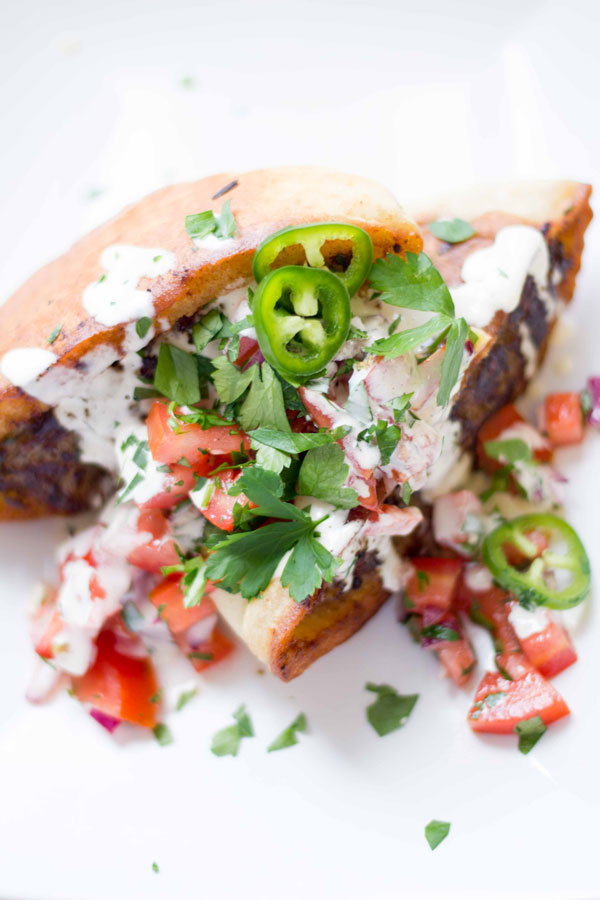 Spicy Middle Eastern Arayes Ground Beef Stuffed Pita
Spicy Middle Eastern Arayes Ground Beef Stuffed Pita
Ingredients
600 grams ground beef (with a lot of fat)
3-4 freshly baked pitas
1 tablespoons olive oil
1 tablespoon canola oil
1 yellow onion
1 jalapeno
1 cup chopped parsley
1 teaspoon cinnamon
4 medium tomatoes
1 teaspoon cumin
2 cloves garlic
juice of 1½ lemons
1 small red onion
2 tablespoons tahini paste
Instructions
Preheat the oven to 375 degrees Fahrenheit.
Begin with making the ground beef mixture so that it has time to marinate. Combine the ground beef with chopped yellow onion, ½ cup chopped parsley, 1 minced garlic clove, ½ a tomato grated, ½ a jalapeno finely chopped, olive oil, cumin, cinnamon, salt and pepper to taste. Then set aside.
For the tahini, add tahini paste, juice of ½ a lemon, salt, pepper, 2 ice cubes, 1 tablespoon water, and 1 clove minced garlic into food processor. Incorporate until its creamy and smooth. If too watery, add more tahini paste, and if it's too thick, add more water.
For the tomato salad, dice the remaining tomatoes and combine with diced red onion, remaining chopped parsley, remaining jalapeno, remaining lemon juice, salt and pepper.
Cut the pitas in half and stuff each one with a fist full of the spiced beef mixture.
Preheat the canola oil in a large pan.
Sear the pitas beef side down in the pan for 1 minute or until the beef has crisped up. Then, flip to the other sides of the pita and fry for 30 seconds each, until a crispy crust forms.
Transfer the crispy stuffed pitas onto a baking tray lined with parchment paper and enter into the oven to finish cooking the insides of the beef. Bake for 10-12 minutes. You can cut into one pita to check how done the beef is and make sure you don't dry it out throughout the cooking process.
Remove the arayes from the oven, top with tomato salad and drizzle of tahini and enjoy!
SaveSave
SaveSave