I couldn't let 4th of July pass without making a good old American burger, well my spicy sriracha burger. For me a good burger is all about balancing different textures and tastes. One that meets the criteria gives you the perfect bite of juicy, creamy, crunchy and of course spicy!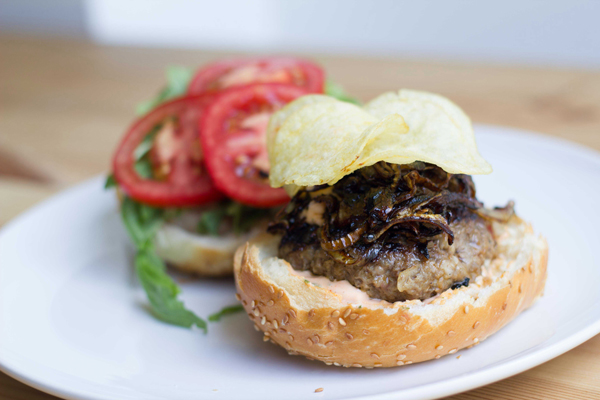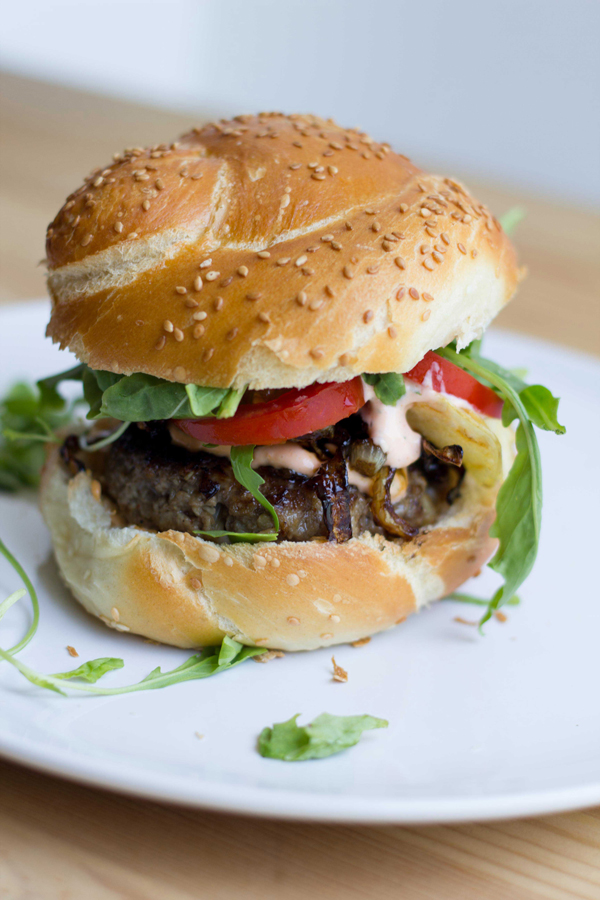 This spicy sriracha burger is no exception. I combined a tender beef patty with sweet caramelized onions, crisp greens, crunchy potato chips and a spicy sriracha aioli. All that goodness nestled in between a fluffy sesame bun. This will definitely be a showstopper at your 4th of July barbecue!
Of course, no one is stopping you from making this recipe all year round too.
Spicy Sriracha Burger for 4th of July
Ingredients
500 grams ground beef
2 yellow onions
1 tomato, sliced
½ cup of arugula
2 teaspoons Sriracha
2 tablespoon mayo
2 sprigs of fresh mint, chopped
1 tablespoon balsamic vinegar
1 tablespoon brown sugar
1 bag of Lay's original potato chips
1 sesame bun
3 tablespoons olive oil
1 teaspoon cayenne pepper
Instructions
Start by heating a non stick pan to medium-low heat and add 1 onion sliced into rings.
After about 15 minutes, once the onion is translucent add balsamic vinegar, brown sugar, salt and pepper and let go for another 20 minutes. After 20 minutes the onion should be soft and caramelized into a golden brown color. Set aside.
To season the meat, pulverize 1 onion and incorporate into the ground meat along with salt and pepper, cayenne pepper, 1 teaspoon Sriracha and 2 tablespoons olive oil.
Heat a grill pan to the highest heat and sear the patty for 3 minutes on each side.
For the Sriracha mayo combine mayo, Sriracha and chopped mint.
Toast the sesame buns for about a minute in the oven.
Spread the Sriracha mayo on the bottom bun, place the burger on top of that, caramelized onions, arugula, more Sriracha mayo, tomato slices, and crispy potato chips.
Gently place the top bun over the whole thing and enjoy!